A paradigm shift has created a new but fertile landscape for DSOs to attract new associates.
By Joseph McManus, DMD, MS, MHA, MBA, MS, FACD
The recruiting landscape for new associates is fertile ground. That belief comes from observing a generational paradigm shift that has taken place in the cost of dental education. Today's dental education is expensive, and graduates complete their dental training with enormous debt. According to the American Dental Education Association, the average educational debt for all indebted dental school graduates in the Class of 2019 was $292,169, with the average for public and private schools at $261,305 and $321,184, respectively. These young graduates need a paycheck so they are able to start to repay their educational debt.
Another change in the landscape is that, unlike the last generation, young dentists today have less interest in private practice ownership. It was recently reported by the American Dental Association's Health Policy Institute that practice ownership for all dentists declined from 84.7 % in 2005 to 76.1 % in 2019 – a 10 % decrease! So, this has resulted in more young dentists seeking associateships with established practices.
On the surface, this sounds like an easy win for dental practitioners looking to hire. However, although that is true, the key to creating and fostering a successful and lasting relationship with new associates lies in getting to the core reasons behind these paradigm shifts.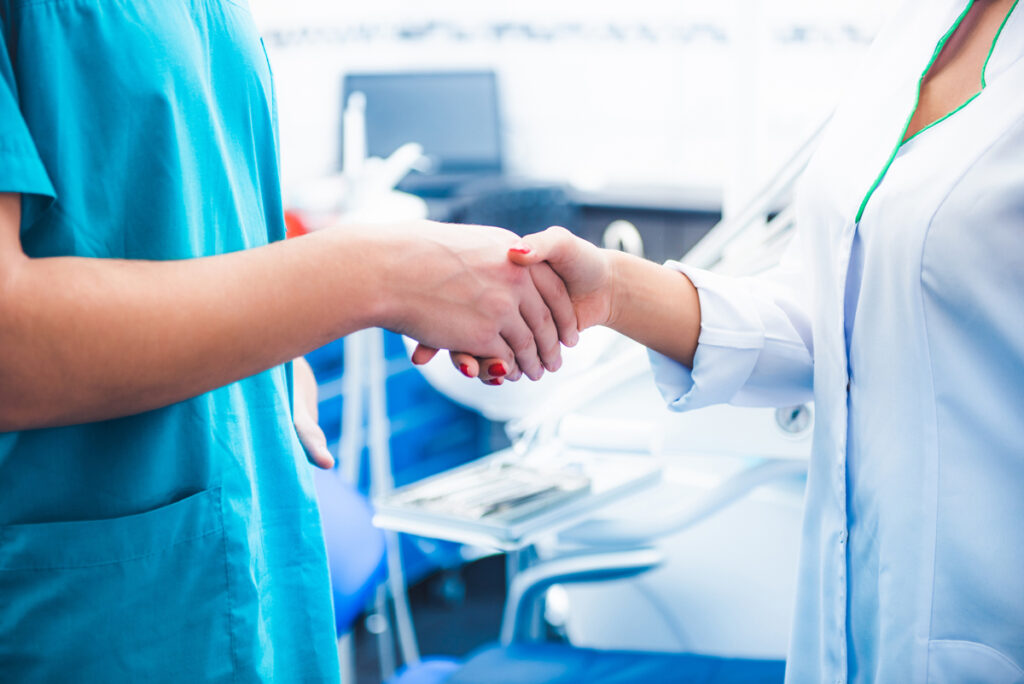 Reasons behind the shift
What caused the change? It was due, in part, to the challenges young members of the dental profession are confronted with today.
They face escalating tuition costs, personal debt, more competition from other young graduates, and insufficient training in practice management. They do not know how to manage a dental practice and run a business.
For many of today's dental graduates, the lack of business knowledge is due to a stronger focus on acquiring dental knowledge and skills, with an emphasis on the biomedical core that is so vital for today's dental practitioners. The dental curriculum of today allows limited opportunity for courses in practice management. In addition, the Covid-19 epidemic had a negative effect on their exposure to clinical patient care.
Add to that the needs and wants of the millennial generation, and you understand what drives these young men and women to your office. You're able to provide them with an uncomplicated alternative to establishing a practice. In short, you can offer them a paycheck, a balance between work and home life, and an opportunity to refine their clinical skills under your mentorship.
Another significant factor driving the younger generations away from practice ownership is the increase in dual-profession families, which often requires mobility that practice ownership does not allow. If a young dentist's spouse is subject to periodic transfers, practice ownership becomes impractical.
Established dental practices offer an uncomplicated alternative to establishing a practice. There is a minimal commitment on the part of the young associate. As previously mentioned, the balance between work and home life is easily established. There are little to no management responsibilities, which is a good thing. You offer them an opportunity to earn an income, and perhaps provide them with benefits that may or not include health insurance, paid vacation and a continuing education allowance. You offer a very attractive career opportunity.
In order to be successful and make the most out of such favorable market conditions, you need to make sure you are taking appropriate steps, not only to attract but also to retain quality associates. In recruiting the millennial generation, keep in mind that you will most likely be recruiting not only the dental associate, but also their significant other. Most young dentists will not accept an associateship if their spouse does not like the area and cannot obtain employment in the vicinity of your practice.
The recruitment of an appropriate associate can be a complicated, complex, and time-consuming process. Dentists are experts in rendering dental services, not in recruiting associates. Therefore, let me suggest one of the best ways to accomplish the goal of finding the right associate.
One should seriously consider retaining a national dental recruiting firm such as Henry Schein Nationwide Dental Opportunities (Henry Schein NDO). Henry Schein NDO can make the process as simple as possible as they will do the heavy lifting in the recruiting process. All potential candidates are extensively screened and interviewed with best efforts being made to match your job requirements.
Recruiting firms can help you find the right individual, but you will be responsible for taking the appropriate steps to ensure a fruitful and long-term arrangement. You accomplish this by appropriately addressing the associate's concerns. Some typical concerns include:
Will the size of your patient base be adequate to support them?
Will they be allowed to provide an array of services?
Will they be able to earn sufficient income to pay their bills and repay their student debt?
Central to all of that is making sure you have an explicit employment contract. I believe dentists should never enter the associateship without a written agreement, especially if both parties are interested in a long-term relationship. If the senior dentist is not willing to do this, the relationship will fail, and will fail miserably.
Keys to success
Remember, many associateships have failed due to mistakes made in the recruiting phase as well as inadequate communication and mentoring especial in the early stages of employment.
So, what are the keys to a successful associate relationship? The answer lies in a profitable practice, adequate patient base, compatible philosophies, complementary goals, and a solid written employment agreement. Extraordinary relationships are built by ordinary actions. Take the time to listen closely to your associate. Be consistent, trustworthy and humble in your dealings with him or her. Please pay careful attention to the things that are important to them.
Remember, successful associateships are like successful marriages. Both require large amounts of time, good communication and devotion, equanimity and a deep concern for the other party.
---
Dr. Joseph McManus, Received his dental degree from the University of Pennsylvania and his certificate in pediatric dentistry from the Children's Hospital of Philadelphia. In addition to his clinical training, he has earned master degrees in management, health administration, business administration, and higher education. Dr. McManus practiced pediatric dentistry for over 25 years and has served on the faculty of Columbia University College of Dental Medicine where he held positions of Associate Professor, Associate Dean, and the Executive Director of the Faculty Practices. Dr. McManus' most recent position was as the Senior Vice President of the Division of Dental Practice/Professional Affairs at the American Dental Association. He now serves the College as the Senior Associate Dean of Admissions and the Director of the Practice Management courses. Moreover, he is a consultant for Henry Schein Professional Practice Transitions.