Informed and educated patients seek treatments that are aesthetic,
functional, and beneficial to their overall health. To address the growing needs
of patients, Shofu has developed a score of smart solutions, including the
world's first digital dental camera, bioactive restorative materials, adhesive
systems, and minimally-invasive abrasives. These products are not only clini-
cal problem-solvers; they also have the ability to help the clinicians and team
members expand the range of treatment techniques in a simple and cost-ef-
fective manner, elevating the practice's growth and profitability
The EyeSpecial C-II Digital Camera
A third-time recipient of the prestigious BEST IN CLASS TECHNOLOGY AWARD by CELLERANT CONSULTING GROUP, the EyeSpecial C-II delivers predictable and consistent clinical photographs for case documentation, diagnosis and treatment planning, patient communication and education, insurance verification, legal documentation and dental laboratory collaboration.
Furnished with a 12 mega-pixel sensor and a proprietary system of ring and dual-point flashes, the EyeSpecial C-II demonstrates true-color reproduction with an exceptional depth-of-field range. The panoramic LCD screen of this camera is larger than displays and viewfinders of SLR and point-and-shoot cameras and can be operated with a gloved hand. It also employs gridlines that facilitate a proper image alignment, thus reducing the risk of photographing objects at an incorrect angle. Designed to provide predictability and functionality, the heavy-duty yet extremely ultralight (weighing ca. 1lb) EyeSpecial C-II complies with stringent infection control protocols. The camera is OSHA-compliant, water-, chemical and scratch-resistant, and can be swiftly disinfected with a disinfecting towelette.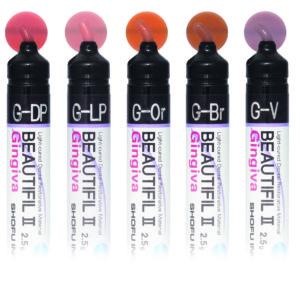 One of the most notable advantages of the EyeSpecial C-II is its ability to efficiently achieve predictable and consistent images. Accomplishing photos with Shofu's camera is virtually stress free and not dependent on the photographer's technical knowledge or experience with photographic equipment. The camera features eight preset dental shooting modes (standard, surgery, mirror, face, low-glare, whitening, tele-macro and isolate shade) that are highly intuitive to navigate and do not require retrofitted equipment or software add-ons to function.
Giomer Chemistry
The Giomer chemistry is a proprietary component of Shofu's restorative materials. It combines clinical benefits of bioactivity with superior physical, mechanical and aesthetic attributes. This innovative technology has been clinically vetted in 8- and 13-year recall studies and proven to sustainably release and recharge fluoride and other beneficial ions and to inhibit plaque formation to help establish a stable pH in the oral environment. 1,2 Inclusive of the Giomer chemistry is Beautifil II LS (Low Shrink), a universal direct restorative designed to minimize polymerization shrinkage and shrinkage stress, and Beautifil II Gingiva, a system of nanohybrid composites formulated to provide general practitioners with the means to optically improve gingival aesthetics. These versatile materials allow general practitioners to offer functional and aesthetic treatment options that are minimally invasive and cost effective.
1 Gordan V.V., et al. A clinical evaluation of a self-etching primer and a Giomer restorative material: Results at 8 years. JAM Dent. Assoc. 2007;138:621-627
2 Gordan V.V., et al. A clinical evaluation of a Giomer restorative system: 13-year recall. Presented at IADR General Session; March 23, 2013; Seattle, Washington