By Laura Thill
DSOs rely on careful evaluation to adopt technologies that maximize value for both patients and the practice.
Dental providers today have no shortage of technologies and new equipment to choose from. But, sorting through the many clinical and non-clinical solutions – many of which are backed by positive testimonials – can be overwhelming, according to Mark Blomquist, chief technology officer, Benevis.
Not only is it impractical to latch on to every new solution, it's unwise, he points out. "If a disruptive technology becomes available in dentistry that has positive, evidence-based impacts on patient outcomes and a positive business case, it behooves the dental group to invest in and provide this technology to their supported practices and patients," he says.  "The evaluation of these two criteria is complex, and industry-supplied information is likely to have a significant proportion of hype included."
"Adding technology for technology's sake has the risk of creating poorer patient outcomes (such as overuse of CBCT) or increasing costs," Blomquist continues. "For example, the lab savings and payer-approved incremental revenue from CAD/CAM-provided services may not offset the ongoing asset costs," he points out. "A group of qualified clinical, business and technology professionals at the DSO should monitor the industry for developments and proactively perform these evaluations on an ongoing basis, in order to [ensure better outcomes] for the patients and [maximize revenues and minimize costs for] the business.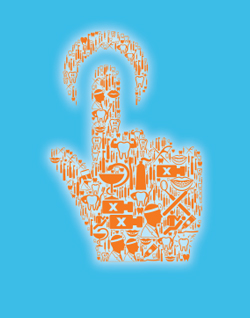 "To sort through the hype, we evaluate the technologies based on whether they positively or negatively impact patient outcomes or provide a positive business case for investment," says Blomquist. "Patient outcomes can be evaluated by reviewing published, peer-reviewed studies and by using data analytics on longitudinal patient data in the practice management system. For example, we might evaluate using dental microscopes versus caries detection systems in the operatory setting for better outcomes. A positive business case for technology investment could be illustrated by team members' productivity enhancements or ongoing cost reductions." Converting from film x-rays to digital x-ray sensors, for instance, might reduce patient cycle time and supply costs, he says.
In Blomquist's experience, the general dentistry offices that Benevis supports have not expressed a high interest in performing implants or same-day restorative procedures supported by CAD/CAM. "We would need to evaluate the restoration longevity, patient outcomes, cost effectiveness and ongoing demand for such services before considering investment," he explains.  "Boutique dental offices are likely satisfying the premium demand for these services, but until the procedures become commonplace and frictionless with payers, [it's difficult to make a] business case."
For now, Benevis has focused on bringing several other technologies to its dental customers, including:
Electronic reminders and confirmations using email and SMS texting.
Online appointment setting and rescheduling.
Active management of online presence and online reviews.
Reliable and secure computing infrastructure to protect patient data and privacy.
Data analytics for finding outliers.
Standardization
It makes good business sense for large group dental practices to employ the same equipment, software and standard operating procedures throughout the organization, notes Blomquist. "There are significant benefits to [doing so], particularly if there is any level of best practices sharing or centralization of business functions and support," he says. "There are cost and service advantages for both the DSO and the dental practice, [including greater] group leverage with equipment manufacturers, suppliers and service organizations to ensure the reliability and performance of a known set of equipment.
"The overall organization also has much better peer and DSO support, since [all of its] locations are running similar configurations and getting answers to questions on gear, equipment behavior or workflow issues," he continues. "Supporting a standardized technology environment is much more efficient than attempting to support one-off configurations."
Additional benefits of standardization include establishing:
A common set of known best-practice standard operating procedures using common software for appointment setting, recall management, appointment confirmations and reminders, and incomplete treatment plan recall.
The ability to compare effectiveness of different offices and find best practices that can enable some offices to improve their performance (i.e., using specific scripts or techniques to facilitate higher collections, higher payer rates or greater patient treatment plan acceptance).
The ability to leverage patient-engaging technologies, such as email and SMS text reminders and confirmations, using a common integrated eCRM provider.
More consistent adherence to HIPAA regulations and PCI compliance, based on common standard operating practices that have been developed and provided by the DSO.
Interchangeability of equipment between offices (i.e., fewer spares issues).
Faster ramp-up of personnel, given that common standard operating practices are in use and shared training materials can be leveraged (particularly for personnel transferring between offices).
Volume pricing with vendors and negotiating leverage (including that for new technology and releases).
An extended useful life for equipment (i.e., by passing to one office a piece of equipment that another office is removing).
DSO support
Dental service organizations can help ensure the success of their dental practices by playing a supporting role in evaluating emerging technologies and training clinicians and staff on new technology and standard operating procedures. "The DSO should [provide] a number of clinical, business and technology professionals [who are responsible for] evaluating emerging technologies for possible inclusion in ongoing operations," says Blomquist. "This group should also have a forum to keep their dental customers informed and to field questions and recommendations for ongoing research."
In addition, the DSO should offer its dental practices the necessary expertise, training and support required to integrate new technology with minimal disruption to workflow. "Centralized support with trained technology and workflow specialists is one of the key benefits of having a professional DSO for a partner," he points out.  "These support professionals have detailed knowledge of all the standardized workflow standard operating procedures, technology integrations and knowledge of common problems and resolutions across the family of DSO-supported practices."