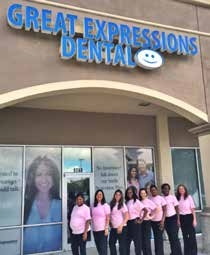 Great Expressions Dental Centers makes it a point to provide more than great dental care. They become part of the fabric of the communities they serve by making donations to dental schools; participating in local partnerships, charities and events; visiting schools to educate students about brushing, flossing and diet; and educating people about the importance of their oral care.
Last year alone, GEDC was a sponsor of the Michigan Missions of Mercy – the state's largest free dental clinic – and the Jarvis Landry Camp in Miami, Fla. GEDC set up its SmileCenter at the two-day camp, and team members handed out water bottles and Oral B Travel Kits to the children, as well as raffled off a signed, Jarvis Landry football both days. In addition, GEDC participated in:
Backpack Donations. Over 600 backpacks stuffed with dental and school supplies were donated to school classrooms across the country. GEDC patients nominated the classrooms on its Facebook page, and GEDC presented the winning classrooms with backpacks and an oral hygiene presentation.
NOVA Scholarship. Each year, GEDC awards a partial scholarship to a NOVA Dental student.
Feeding Children Everywhere. GEDC team members have packaged over 100,000 meals annually.
Breast Cancer Awareness Month. Together with the Breast Cancer Research Foundation, GEDC helped raise awareness throughout the month of October.
Dental Deputies. GEDC introduced its Dental Deputies to the Texas market, encouraging partnering schools to collect oral hygiene donations for victims of domestic violence.
Michigan Dental Association. When GEDC learned that MDA was $8,000 short of its 2016 fundraising goal, it stepped up and donated the exact amount.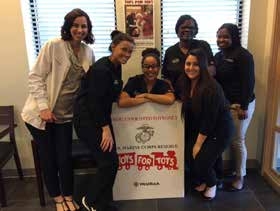 The DSO has continued its community support and service this year. To honor Martin Luther King, Jr.'s dedication to community, GEDC marked the national holiday by donating 5 percent of all revenue generated through patient services from all of its offices that day. (Through the years, GEDC has donated over $400,000.) In addition, it is participating in GEDC's own Dental Deputies program throughout the year, where the DSO raises donations for women's shelters via school presentations and oral care products given to the school and shelter. The program will expand Giving back to include women's shelters in Atlanta, Ga., Cleveland and Columbus, Ohio, and Texas. Upcoming events scheduled in 2017 will include helping raise awareness during Oral Cancer Awareness Month, Missions of Mercy, Team Smiles and more.
For more information about community and charitable events sponsored by Great Expressions Dental Centers, visit the organization's website at www.greatexpressions.com.