By Laura Thill
DSOs ensure their members are equipped with cutting edge technology.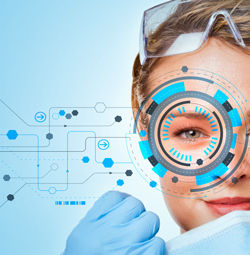 There was a time when equipping dental practices with cutting edge technology and equipment was icing on the cake – a means of branding the practice as a market leader. For today's group dental practices, being technologically innovative is no longer a choice. Without the latest and greatest technologies, it's close to impossible to attract new patients and avoid costly downtime and lost productivity.
Today more than ever, dental service organizations must determine which technologies are truly innovative to ensure their practices remain efficient and provide the best possible patient care. Efficiency in Group Practice reached out to two industry experts for their perspective: Mark Blomquist, chief technology officer, Benevis; and Ken Strohschein, chief information officer, Great Expressions Dental Centers.
Efficiency in Group Practice: As we approach 2017, what are the top three technology innovations dentists should be aware of to ensure their multi-office practices continue to operate efficiently and cost-effectively, and provide great patient care?
Mark Blomquist: First, centralized, cloud-based practice management and imaging platforms. Tech-savvy group practices are leveraging the economies and scale of public/private cloud computing on centralized practice management and imaging platforms. Cloud-based, centralized solutions maximize the availability of patient data between providers, provide real-time access to patient records, and ensure accurate, consistent quality reporting, payer audit support and compliance across locations.
Second, SIP/IP PBX-based telecommunications platforms. SIP/IP PBX-based telecommunications platforms allow customer calls to be routed between different locations to maximize customer service and leverage team members across locations or centralized work groups.
Third, software-defined wide area networking (SD-WAN) and network function virtualization (NFV). By leveraging diverse commodity broadband connectivity, a dental office network can achieve the triple play of increasing network uptime, improving performance/bandwidth (particularly useful for digital image transfer) and decreasing circuit costs. NFV extends this flexibility and modularity to the data center, optimizing the use of centralized network equipment (e.g., routers, session border controllers, etc.).
Ken Strohschein: Electronic data interchange (EDI) will have the greatest impact on the dental industry, particularly with regard to processing insurance claims. When the insurance company sends the dental practice a printed Explanation of Benefits (EOB) letting it know it has paid a claim, the office manager must go into the system and confirm the office has received the payment. Then, the patient must be found in the DPM system in order to apply the payment to the patient's account. This is all very time consuming. EDI will reduce, and sometimes eliminate, this administrative burden and give them more time to focus on patient care. As EDI technology continues to be developed, it will become more accessible to the large group practices.
Patient communications is also very important. Scheduling regular visits – and following up with patients – can be very time consuming, especially by phone. The process must become more electronic (e.g., texts and emails rather than phone calls). In addition, the communications must become two-way. In other words, it's just as important for the patient to respond to the texts/emails as it is for the practice to send them. Data shows that patients who rely on email reminders are less likely to cancel appointments compared to those who rely on phone messages.
Finally, micro-computers are becoming increasingly available. Smaller computers mean less office clutter. If an office is tech savvy, it will already have digital radiography, laser, etc. Now it will need micro-computers.
Efficiency in Group Practice: How does the DSO determine which new technologies are truly innovative and essential, and which are "me-too" technologies?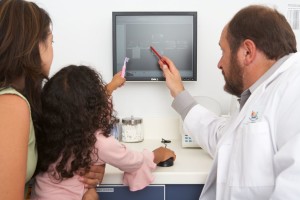 Blomquist: There are a number of clinical and non-clinical technologies available in the marketplace – all with positive testimonials to back them. To sort through the hype, we evaluate the technologies based on whether they positively or negatively impact patient outcomes or provide a positive business case for investment.
Patient outcomes can be evaluated by reviewing published, peer-reviewed studies or by using analytics on patient data in the practice management system (e.g., using dental microscopes in the operatory setting for better outcomes). For clinical technologies, we compile all the information so that the dental leadership can make the final decision. A positive business case for technology investment could be illustrated by team members' productivity enhancements or ongoing cost reductions (e.g., a conversion from film X-rays to digital images, which reduces patient cycle time and lowers ongoing supply costs).
Strohschein: As a large organization, we are solicited with new products from our vendors and have an opportunity to evaluate it for its value. Sometimes, we test new equipment or technology in one of our dental member's office. Newer dentists are often eager to try new equipment. Some doctors are less interested in trying new technology than others. And, we respect the individuality of our members. Still, when it's time to adopt new technology, we need to move on.
Efficiency in Group Practice: How can the DSO help its dentists decide whether or when to replace old equipment or add new technology?
Blomquist: First, it's important to keep in mind that as computing and dental equipment ages, the amount of downtime and lost productivity due to slowness and repair costs increases to where these costs exceed the depreciation cost of new equipment. Computing equipment from top-tier manufacturers has an expected lifespan of ~36 months. For second-tier and white box manufacturers, it can be half of that. A good indicator of expected life is the length of the warranty provided with the equipment; the manufacturer also knows how long the equipment will last until it becomes too expensive to maintain. A proactive stance on equipment refreshment can minimize the dental team frustration and patient dissatisfaction that come with a poorly operating computing environment.
For dental equipment, the expected lifespan can be much longer or even shorter, based on the type of equipment. Keeping track of repair work orders and maintenance expenses by item (e.g., handpieces, X-ray gear, chairs and sterilization), and identifying problem areas for selective upgrades, can keep the overall practice assets healthy with minimal downtime and patient delays.
Strohschein: We take time to educate our dentists and explain the value of new technologies. Dentists are clinically trained and tend to base their decisions on data. The front office and administrative staff must always be on board, as well. That said, while consistency throughout the DSO can be good, we don't want to force any new technology and equipment on our individual dentists. With any new technology, we'll do a thorough rollout process to align with doctors and office team members, explaining and showing the value-add to the practice. This is how we brought sensors and digital X-rays to all GEDC offices.
Efficiency in Group Practice: When adding new equipment and technology, what office design issues should dentists take into consideration?
Blomquist:
Ergonomic considerations (e.g., left-handed vs. right-handed dentists).
Patient comfort and convenience (e.g., lobby kiosks, WiFi, patient "edutainment" displays in the operatory setting).
Security (e.g., debit card machines in public areas).
Office layout, lab area size and staff efficiency, and the impact on workflow.
Installation considerations (e.g., technician access, construction/renovation costs to accommodate technology).
Usually, at a DSO-supported group practice, there are [a range of considerations depending on] the equipment age, the dental team's needs and the need for office expansion to add new services or patients. Taking best practices and lessons learned from many other similar upgrades or builds ensures that the dental practice will have the best outcome for their dental teams and patients across all locations.
Strohschein: The number one issue is wiring the dental office appropriately for growth and expansion. So much can be done with wireless technology today, but the stability that a hard-wired office offers is significant; there are much fewer interruptions compared to systems that rely only on wireless technology. Often, older offices are not wired properly. It's costly, but the DSO can help and it's a worthwhile investment. In addition, when expanding or building, dental practices often overlook the space required to house computer keyboards and monitors. These are small items, but they still require a space.
Efficiency in Group Practice: From an efficiency or cost perspective, how important is it to ensure that all offices within a group practice use the same technology?
Blomquist: There are significant benefits to standardizing the types of equipment used throughout a group of practices, especially if there is any centralization of business functions or support. For both the DSO and the practice, there are cost and service advantages of standardization. For instance, we are able to negotiate better contracts and bulk discounts with equipment manufacturers, suppliers and service organizations, as well as ensure the reliability and performance of a known set of equipment from trusted vendors. The overall organization also has much better peer and DSO support, since many other locations run similar configurations. Problem-solving equipment behavior or issues is much quicker in a standardized setup than attempting to support a one-off configuration.
Consistency of equipment has the following specific advantages:
Interchangeability of equipment between offices.
Faster ramp-up of personnel (particularly those transferring between offices).
Improved Help Desk knowledge base, including reduced staff training time and faster ticket resolution time.
Volume pricing with vendors and negotiating leverage (including for new technology/releases).
Reduced end-of-life issues (e.g., removing a piece of equipment from one office creates spares for another, extending useful life).
As technology evolves, we gain the ability to collapse functionality of multiple devices into one, minimizing cost and points of failure (e.g., incorporating basic routing functionality into branch office network appliances).
Strohschein: Consistency throughout a group practice is good from the standpoint of maintenance and repair issues. We help our members through network conversions, sometimes allowing them to maintain their old system for a while longer. But, our goal is ensure our members have proper licensing, and that the security and anti-virus software, as well as the wireless network, is consistent throughout the organization. When we do this, we help reduce costs while keeping the office operationally effective to help patients get the best service and care.
Efficiency in Group Practice: What training and support do you offer your practices as their staff learns to use new technology?
Blomquist: Having a similar footprint [across our practices] permits good pressure-tested SOPs for the offices to use. Written and instructor-led (in-person or online) training is available for the Kool Smiles-branded offices that Benevis supports.
Strohschein: Before a software, GEDC sends a training team on site to set up computers for each staff member and run them through training exercises. The actual conversion is done after hours to avoid disrupting the practice. Our training team remains on site the week following the conversion, and afterward, we offer remote, ongoing support services.