Sponsored Content: Ivoclar Vivadent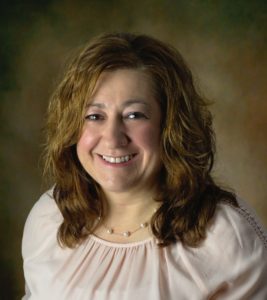 By Dr. Amy Scott, Chestnut Hills Dental and Tom Taylor, NDX Albensi
How lab/dentist collaboration and high-quality denture materials created a youthful smile
Today's dental patients are becoming increasingly savvy and more discerning about the materials and techniques used in their treatments. Edentulous patients requiring implant-supported full-arch restorations are no exception. In such cases, collaborative communication between the laboratory and the dentist can result in functional outcomes that simultaneously satisfy clinical needs and patient demands.
Case presentation
An edentulous man in his mid-60s presented for restoration of implants that had been placed approximately 18 months earlier by a periodontist. After experiencing multiple dental problems throughout his life, he stopped seeing his dentist for regular check-ups and hygiene appointments. In pain and uncomfortable with his appearance, he eventually decided to re-engage with a dentist to learn about his options and how to improve his oral health.
The option he chose was to have his teeth extracted and to ultimately have implants placed by a periodontist. However, despite having two completely edentulous arches, the patient chose not to adopt provisional dentures. As a result, bone resorption occurred, which presented challenges to the oral surgeon when the implants and healing caps were placed (i.e., in the areas of teeth ##3, 6, 11, 15, 18, 22, 27, 30). It also created the need for longer healing time to ensure osseointegration.
After researching implant-supported dentures (i.e., teeth and base materials), he was now seeking the best full-arch denture options for his implants and budget. His research led him to SR Phonares denture teeth and Ivobase acrylic (Ivoclar Vivadent, Amherst, NY). He actively sought out these materials by calling the manufacturer and opting for treatment at our practice (Chestnut Hills Dental), in collaboration with NDX Albensi. NDX Albensi uses only these materials for their denture bases and denture teeth based on their favorable characteristics for patients, including life-like esthetics and durability to withstand mastication forces from implants.
Impressions and evaluation
Preliminary impressions were taken in order to proceed with the case. Using the impressions and the patient's dental health as the basis, the case was evaluated and it was determined that removable attachment Locator abutments (i.e., Locator R-Tx, Zest) would be the best option for the patient. This removable attachment system would enable the patient to remove the dentures for proper oral hygiene.
Denture fabrication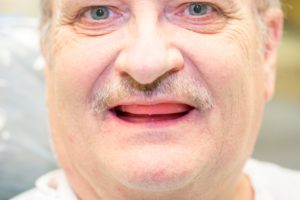 The laboratory fabricated custom trays that were subsequently used for final impressions. After the laboratory technicians fabricated models based on these impressions, the proper removable attachment locator abutments were selected. The wax record bases were fabricated, and these were used to establish the bite and identify landmarks for tooth arrangement.
Because the patient had been without teeth for such a long time – and given his previous history of very poor oral health – this process was challenging. Fortunately, the patient's wife provided the laboratory with a photograph that was taken of him when he was much younger and had served in the U.S. Army, which was many years prior to him becoming edentulous. This was an excellent visual aid that could be used to select and position the denture teeth (i.e., SR Phonares).
During the patient's next appointment, the wax try-in of both arches was performed. The healing caps were removed, and the removable attachment system abutments were placed into the proper position in the patient's mouth. Some minor adjustments were made in the dental office to the anterior arrangement to satisfy the patient. However, the bite and esthetics were otherwise very much consistent with the patient's preference. Therefore, the dentist and patient both approved the case for final fabrication.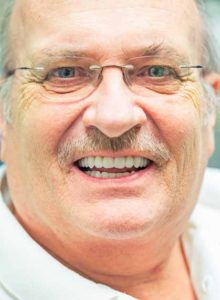 The denture insertion appointment proceeded flawlessly. The healing caps were removed, after which the Locator abutments were placed. The finished SR Phonares/Ivobase dentures were inserted for the patient's approval, and he was thrilled. The fit and finish of his dentures were exceptional, and he indicated that his smile looked like it had decades earlier. His wife's and family's reactions also were extremely positive.
A life-changing transformation
The patient's life-changing transformation was realized as a result of collaborative communication between the dentist and laboratory, as well as the use of high-quality denture materials (i.e., SR Phonares, Ivobase), which improved his appearance and ability to eat properly, and helped him experience a better quality of life. The treatment process was a positive experience for both the members of the dental team and the patient – one that resulted in a more youthful appearance and greater function than he'd had in decades.