Exciting times ahead for group dentistry.
By Laura Bowles, DEO
The DEO Summit 2022 was an incredible time of learning and connection. There was a palpable buzz about the exciting times ahead for group dentistry and the dental industry at large. The Summit, held June 9-11, at the Phoenician Resort in Scottsdale, Arizona, brought together dental entrepreneurs, dental leaders, and industry partners from around the country. Ample networking opportunities were offered and for the first time ever the event featured 2 tracks, a Training and Mastermind track.
Each year the Summit brings successful dental entrepreneurs together to focus on how to successfully grow a dental company. Attendees learned trends to plan for; gained impactful strategies for growth through de novos and acquisitions, hiring, increasing business profitability, optimizing associate relationships, effective communication strategies, and more; heard from successful dental entrepreneurs about what to and not to do; discovered innovative dental industry solutions; and much more.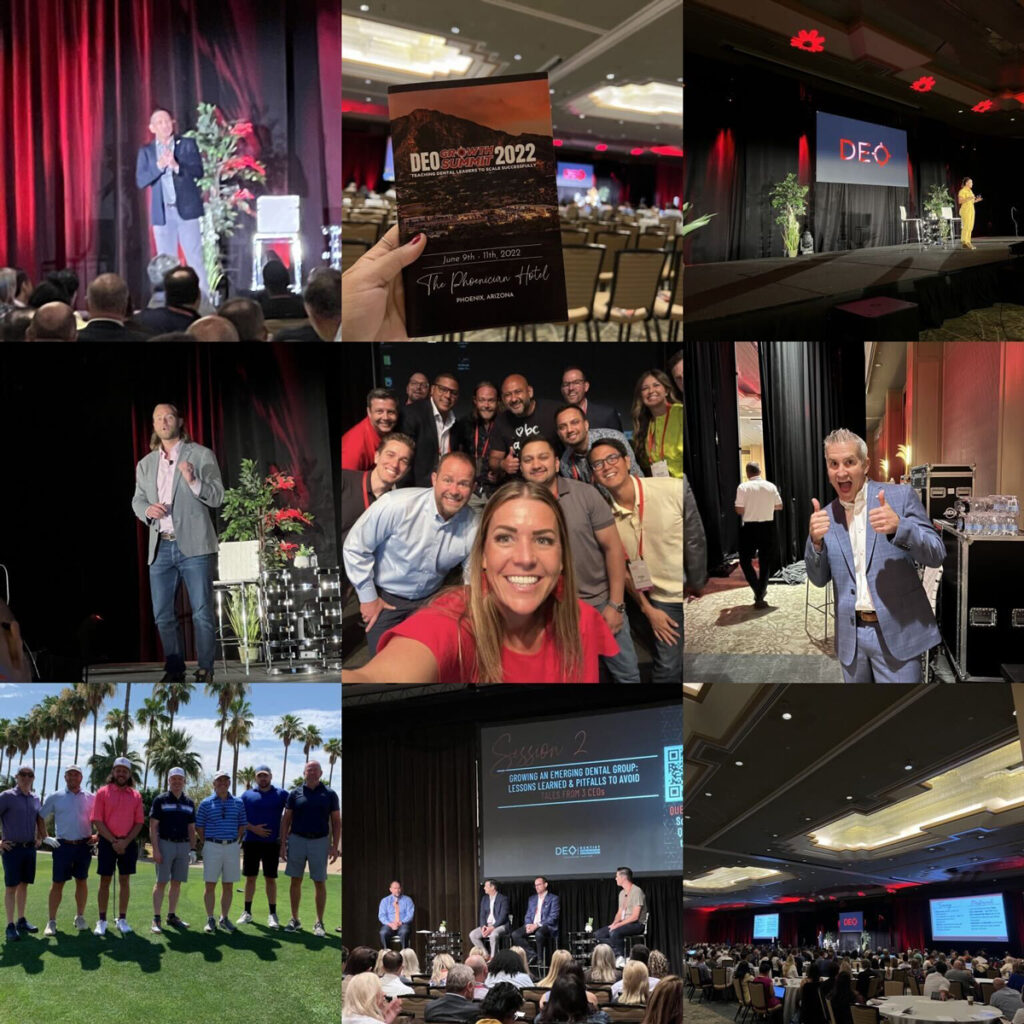 Keynote and DSO industry pioneer Steve Bilt, CEO of Smile Brands, shared hard-won wisdom like: "You send messages all the time by what you do, not by what you say"; "Start every meeting with your mission and you'll find miracles"; and "Know the pain points in your organization and be transparent about them with your team."
DEO Partners Josey Sewell and Dr. Eric Roman took a deep dive into DEO MAP, the first operating system created just for dental entrepreneurs of growing dental companies, with a variety of different sessions on how to guide growth through systems and processes that work with a happy, healthy team.
Jon Acuff, an INC. Top 100 Leadership Speaker and 7x NYT Bestselling Author, gave a fan-favorite presentation about how to rewrite the negative thought "soundtracks". Here's just some of what he said that stuck with attendees: "One of the greatest mistakes is assuming all your thoughts are true"; "Ask these questions about your thoughts: 1. Is it true? 2. Is it helpful? Does it push us forward or pull us back? 3. Is it kind?"; and "Great teams: 1. Ask questions. 2. Suggest new ideas. 3. Admit they are wrong."
It was a powerful weekend with lots of "aha moments" and fun enjoyed at the Phoenician Resort, in historic downtown Scottsdale, and amongst the beautiful Arizona surroundings.
The DEO team thanks all the generous speakers and panelists who gave their time and expertise: BJ Stucki; Dr. Jeff Burch; Dr. Kyle Hale; Elliot Zibel; Dr. Dipesh Patel; Dr. Mary Pham; Dr. Tim Richardson; Dr. Dave Janash; Dr. Steve Broughton; Dr. Francis Oh; Andrew Tralongo; Jon Acuff; Dr. Tarek Aly; Phil Toh; Dr. Dwight Peccora; Dr. Maryam Beyramian; Dr. Ravi Patel; Dr. Josh Renken; and Dr. Peter Kelly.
Also, the Summit would simply not happen without the support of incredible sponsors and industry partners. The DEO is grateful for their continued support.
Planning is in full swing to make DEO Growth Summit 2023 even bigger and better. It will be June 8-10, at the Manchester Grand Hyatt, in sunny San Diego. Get in early and register now at https://deodentalgroup.com/summit-summer.