How one dental group works to make each patient their healthiest self.
By Jenna Hughes
A dental practice is first and foremost a business that provides the service of patient care. In addition to taking care of each patient's oral health and overall well-being, a dental practice must manage business operations including hospitality, HR, marketing, accounting, front office responsibilities, and more.
Whole Dental Wellness integrates a human focus into all aspects of managing its dental practice. Whole Dental Wellness began its operations in 2018, purchasing and merging two practices. To date, they have purchased a total of five practices that have been consolidated into three locations across the Metro Detroit, Michigan area. The family dental practice provides oral healthcare for all ages, utilizing current technology to provide general dentistry, cosmetic services, implant dentistry, periodontics, and specialty services.
Whole Dental Wellness derives its name from this commitment, and all staff members strive to create professional and interpersonal relationships with each individual patient.
"Our view is very much that we are treating people, not just a broken tooth. We really have a macro- level lens on trying to make people their healthiest self whether it be allowing a patient to chew without pain or to smile brighter, which leads to self-confidence," said Dr. Whitney Weiner, CEO and founder of Whole Dental Wellness.
Team first attitude
To find success in any business or industry, taking care of employees and team members is most important. A collaborative and supportive team keeps Whole Dental Wellness' practice running efficiently and allows the staff to provide patients with a better overall treatment experience.
"As a company, our priority is our team members who in turn take care of our patients. We feel so fortunate that our teams can impact the quality, and sometimes quantity, of life of the patients we serve, treating them as whole people with the level of care and concern they deserve," said Dr. Weiner.
Within Whole Dental Wellness' business operations, there is a business team and a people team. The business team focuses on the day-to-day medical operations and patient treatment, and the people team works on the practice's business tactics to keep track of goals, measure data, and improve and expand patient reach.
Each team member, no matter what their role is at the organization, can become fully integrated into the practice and experience great potential for growth within the company.
"One of the really great things about our company is our commitment to growth from within and allowing people to spread their wings and fly and grow within the company," said Dr. Weiner. "We often look to our team to drive new areas of growth. Where do they see opportunities? Where do they feel we can improve systems? The idea that one person runs a company is laughable to me; we are one team united under our common mission of driving impact to the people and communities we serve."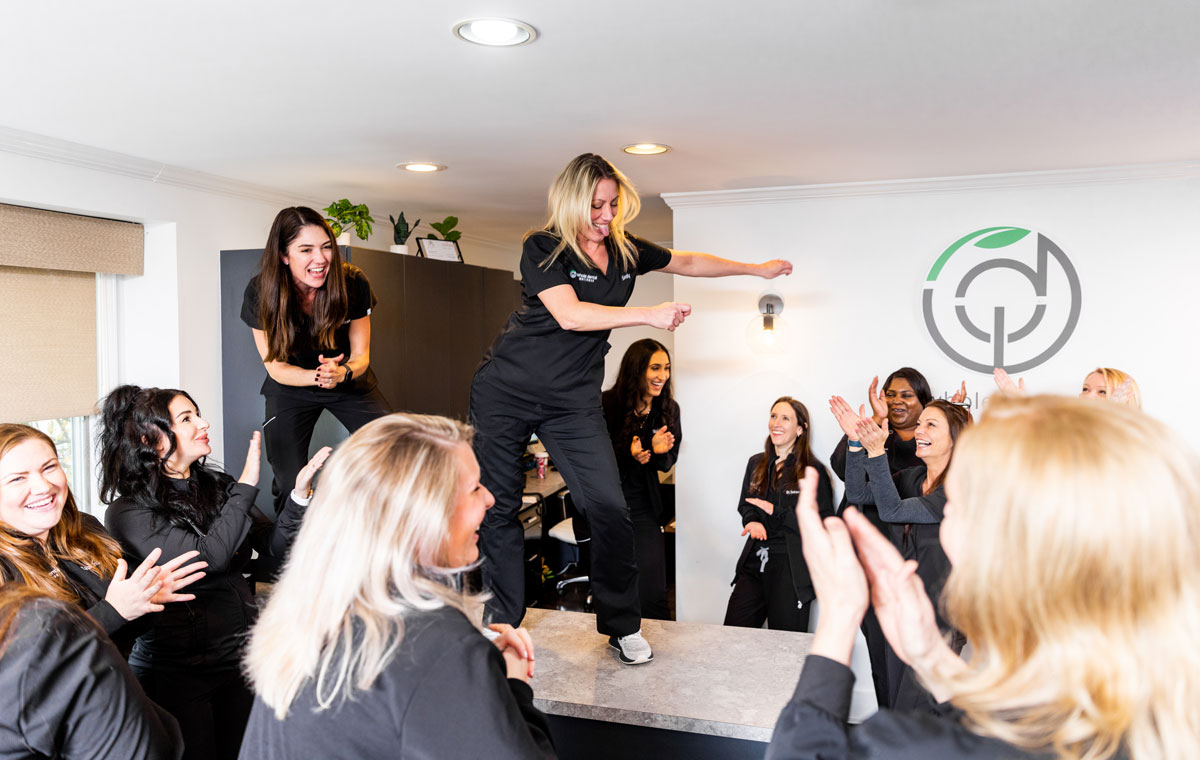 Curating an exceptional patient experience
Whole Dental Wellness, through the DEO MAP Dental Operating System, developed core business values and a company vision to guide operations and create company-wide goals.
"It was so fun building on our core values because we all felt the same way and experienced the same things. Writing those down and now living by them has been so rewarding. Getting the right people on the bus was probably our biggest challenge before implementing values, and now that we have the right people in the right seats, we're working to build out our systems," said Dr. Weiner.
Whole Dental Wellness' core values are Trust or Bust, Fun-ergetic, Teamwork Makes the Dreamwork, Own It, and Everyday We're Hustlin'. These memorable goals set in place with the collaboration of each team member serve to motivate and encourage each employee to perform their best at work each day.
After determining the team's core values, implementing them into the goals of everyday patient care across each position allowed Whole Dental Wellness to successfully meet and exceed both their patient care and business development goals.
Before implementing core values, "No one knew what our growth was going to be. Measuring growth shows you what you have and what you can be. You don't realize after 90 days what you've accomplished until it's right in front of you," according to Sandy Pouttu, Director of Business Operations at Whole Dental Wellness.
Dental industry impact
A large part of the "why" for staff at Whole Dental Wellness is the ability to impact patient's lives and provide them with high-quality and whole person focused dental care.
In terms of plans for growth, Dr. Weiner emphasizes the importance of access to quality care for all patients in the Metro Detroit area and beyond.
"We're not growing to grow or growing for an exit. We're growing to drive impact and being able to build up our teams, empower our teams, grow our teams, and then grow quality dentistry," said Dr. Weiner. "One of the reasons we do this is because quality care is a right, not a privilege."
Going forward, Whole Dental Wellness plans to continue to follow their core values each day in the workplace and provide quality care to every patient treated.
"You really need within an organization core people that you're working with that you can trust, and that you can take everybody's guidance," according to Sandy Pouttu, Director of Business Operations.
Whole Dental Wellness bases its success within the field of dentistry on their collaborative staff and people-focused approach to the business of dentistry.
According to Sara Gorski, Director of People Operations at Whole Dental Wellness, "Everyone's a person, no matter what position they have in a dental organization and within that you have to treat each coworker and patient how you would want to be treated in the workplace."
Praise for Whole Dental Wellness
Reasons why Whole Dental Wellness was chosen as DEO Magazine's Emerging Group Spotlight for this issue include:
• Dr. Whitney Weiner has been recognized by several industry organizations for her work. She was honored as one of the "Top 25 Women in Dentistry" by Dental Product Report and named the "Most Interesting Person in Dentistry" for February by Curasan.com.
• In 2017, Incisal Edge named her in their "40 Under 40" young rising dental stars in the nation.
• In recognition of her accomplishments in implant dentistry, in 2016 Dr. Weiner was selected for membership to DENTSPLY Implants' PEERS North America, an exclusive group of key opinion leaders and experts in the field of implant dentistry – there are less than 100 experts in this elite group throughout North America.
• Dr. Weiner has been voted a "Top Dentist" by a group of her peers in Hour Magazine every year since moving to the metro Detroit area. Only a handful of periodontists have received this honor. Dr. Weiner is a board-certified periodontist and a Diplomate of the American Board of Periodontology.
• Dr. Weiner currently practices with Whole Dental Wellness, a specialist led, cutting-edge group practice of which she is the Founder and CEO. She is committed to providing every one of her patients excellent comprehensive care with a firm and clear commitment to their health and wellness.