Clinical advances help DSOs and their pediatric dentists address the needs of a growing patient base.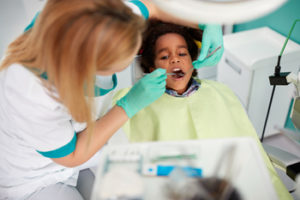 Pediatric dental visits are on the rise, according to Marc A. Auerbach, DDS., Esq., a pediatric dentist with Kool Smiles. At the same time, access to care continues to be an issue.
The good news is that dentists – including pediatric dentists – have more and better tools available to treat their patients, including the following:
Silver Diamine Fluoride. Applying Silver Diamine Fluoride to the carious teeth of a young child allows dentists to delay definitive treatment until the child is older and better able to tolerate dental treatment.
Non-radiating fluorescent. The use of non-radiating fluorescent for caries diagnosis reduces the need for radiation.
Caries management by risk assessment (CAMBRA). CAMBRA enables dentists to develop a patient-specific preventive care plan. (Evidence-based dentistry further aids dentists in providing treatment shown to be scientifically effective.)
Zirconium crowns. Zirconium crowns for both anterior and posterior teeth result in a more natural looking tooth.
Innovative use of local anesthetic products, such as buffering of local anesthetic to make injections more comfortable and to facilitate faster anesthesia uptake.
Intranasal atomization of anesthetics for maxillary teeth, potentially eliminating the need for an anterior maxillary injection.
In-office general anesthesia for the uncooperative or pre-cooperative child with extensive dental needs. Using general anesthesia can help dentists complete treatment in one visit, reducing stress for both the child and parent.
Newer, in-office sedation techniques, utilizing safer and shorter-acting drugs, such as Midazolam.
Innovative isolation techniques. Traditionally the rubber dam has been used for tooth isolation. Today there are new, single-use systems designed to provide tooth isolation, as well as illumination, suction and jaw stabilization, in one device.
Advances in pulp therapy, such as the use of MTA for vital pulpotomies, which have reportedly led to successful results without the potentially toxic effects of formocresol.
Expanded use of sealants, which has helped prevent the development of caries on molars.
Newer and faster lasers designed to cut both hard and soft tissue.
The role of the DSO
Dental service organizations can play a substantial role in helping their pediatric dentists become more comfortable in large group dental practices, according to Auerbach. "The DSO can help integrate the pediatric dentist into the large group practice by facilitating the training of the referring doctors," he says. "DSOs can locate and hire appropriate staff and provide adequate, appropriate equipment and supplies. They can interact with payors to aid in claims processing and to reduce denials." At the end of the day, DSOs can make it possible for their pediatric dentists to remain focused on their patients, rather than be distracted with managing the office, he explains.
---
The Pediatric Dental Visit
Low-profile nasal masks make it easier for pediatric dentists to administer nitrous oxide and offer their patients a more enjoyable experience.
Pediatric dentists work with a range of patients – from infants and children to adolescents and special needs patients – many who are uncomfortable being treated and fear returning for their next appointment. By ensuring that pediatric patients have a comfortable experience through the use of nitrous oxide and scented masks, dentists can help make their visits more enjoyable, notes Deepti Sanjai, product manager for Crosstex/Accutron. Additionally, the use of nitrous oxide can facilitate more efficient patient scheduling. "It has been shown that offices that use nitrous oxide are able to have a higher turnover of patients, while increasing patient comfort," she says. "This ultimately facilitates better patient care, since the pediatric dentist is able to focus on the treatment of the patient."
"Crosstex/Accutron helps pediatric dentists and staff by assisting in patient comfort," Sanjai continues. The company recently launched Axess®, a line of low-profile nasal masks available in pediatric sizes and designed for nitrous oxide sedation. "The design of these masks allows pediatric dentists to more easily access the oral cavity of the patient," she explains. "In addition, the lightweight tubing fits neatly around the ears of the patient, so movement of the head during the procedure doesn't disrupt the placement of the mask."
"Crosstex/Accutron is committed to advancing the care of pediatric patients by launching single-use scented masks with a low-profile design, available in pediatric sizes. We continue to advance our nitrous oxide portfolio, with a focus on our core values of quality, safety, infection prevention and patient comfort."