Sponsored MouthWatch
When patients can't come to the office, Paul Labbe, DDS, brings the office to his patients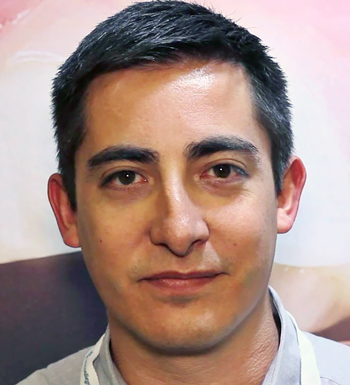 From the start of his career, Paul Labbe, DDS, owner of Texas-based Planet Dental, has made it a point to give back to the community. With four offices and a quality team of dental professionals strategically located in an underserved area of Southern Texas, it would appear he's in a position to provide some deeply needed care. As he discovered, however, patients in need can be difficult to reach – that is, until he added teledentistry to his practice.
"The best part about this profession is the ability to give back to any community," says Dr. Labbe. "In dental school, I had the opportunity to participate in several outreach programs, including a mission trip to Fiji, where we set up a clinic in a remote village and provided oral hygiene services, oral surgery, limited removable prosthodontics, direct glass isomer restorations and limited root canal services. I also was involved in a program that delivered dental care to the homeless in San Francisco."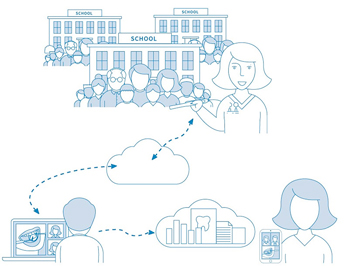 When he established his practice in the Laredo, Texas, area, for the most part he focused on treating underserved children. "Unfortunately, the parents of these children would habitually break dental appointments and usually only visited our office when their children's caries were visible and at a rampant state," he says. It was then he became aware of TeleDent™, a turnkey teledentistry platform by MouthWatch. "By utilizing TeleDent in our offices, we have been able to develop a screening program that includes local health fairs and school outreach events, making it possible to perform dental screenings in schools without using radiation to assess caries risk, identify decay and abscesses, or determine hygiene classifications.
Bringing awareness to the community
Dr. Labbe's screening program, which is integrated with several local schools, is bringing awareness to parents and their children who otherwise might not visit a dentist, he notes. "This absolutely has had a positive effect on the community," he says. "In fact, without teledentistry, it would be nearly impossible to reach these patients. "
"Before we had teledentistry, unless patients were in our office, we could not provide any caries risk assessment or recommendations," says Dr. Labbe. "Today, with the help of a laptop, the TeleDent app, a MouthWatch intraoral camera, gloves and mirrors, we can screen for visible caries, infections, calculus and plaque buildup, eruption anomalies, mal occlusions and more. Essentially, we are able to take the diagnostic portion of the exam (excluding radiographs) outside of the office, and educate children and adults about their oral health." Now Dr. Labbe and his team can share images with patients and their parents, which help them explain the diagnosis and recommendation. "As a result, our patients and their parents are much more engaged in their appointments and more willing to comply with treatment recommendations!"