Equipment Guide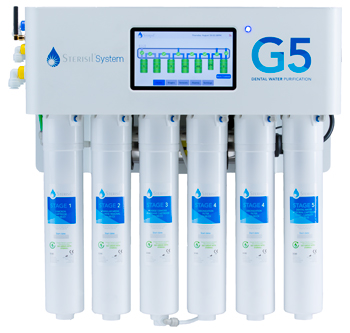 The Sterisil® System G5 utilizes six stages of purification to provide on-demand, purified and treated dental water for any dental practice. The G5 combines silver-based antimicrobial technology with integrated smart technology, making it a leader in dental water purification. It is the only dental water treatment system engineered with a Class A UV light capable of killing 99.99 percent of bacteria and viruses.* Equipped with a touchscreen, PC app, and a network of sensors, the G5 offers water quality monitoring and real-time diagnostics for optimized dental water treatment.
* Chevrefils, G., B.Ing, Caron, E., B.Sc., Wright, H., Sakamoto, G., Payment, P., Barbeau, B., & Cairns, B. (2006). UV Dose Required to Achieve Incremental Log Inactivation of Bacteria, Protozoa and Viruses. IUVA News,8, 1st ser., 38-45.
Purchasing distilled water to be used as a base for treated dental water often leads to additional steps for the dental practice, which must properly treat the water to resist bacterial growth. This can be time-consuming and costly. The G5 eliminates trips to the store or costly deliveries to attain distilled water, as well as time spent manually dosing the water for treatment.
With the G5, both distilled quality water and treated dental water can be produced onsite with no additional costs or labor. Water is plumbed to the system from a municipal supply, such as a sink line; it's then purified and dispensed, either as distilled quality or treated dental water.
Clinicians can determine whether the Sterisil System G5 is right for their dental practice by considering the following:
What is my current waterline treatment protocol?
How much time do I spend on waterline related issues?
What does an ideal waterline quality assurance protocol look like for my practice?
Am I covered from liability should the quality of my dental water treatment be called into question?
Some dentists may question whether it's practical to purchase the G5:
"I've never had a problem with my waterlines."

Waterline issues may not always be visible to the naked eye. An HPC bacterial assessment performed by an impartial third-party lab will prove what we already know to be true: Not treating your lines leaves your patients and staff vulnerable to serious bacterial exposure.

"The G5 costs more than other Sterisil Systems. Does it offer that much more?"

An assortment of sensors and integrated smart technology make the user experience easier and more intuitive than the previous G4 System. Add a Class A UV light for upgraded disinfection and you have a powerful dental waterline treatment system in a sleek, user friendly package.
The introduction of Class A UV disinfection and smart technology exemplify a major shift in the waterline category compared to traditional chemical treatments and manual processes. The Sterisil® System G5 is poised to lead the way forward to a more user-friendly and efficient water treatment program.
Editor's note: Sponsored by Sterisil.