CBCT continues to change the dental landscape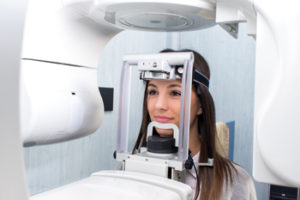 The last 20 years have seen major strides in dental technology, perhaps the most significant of which was the introduction of cone beam computed technology (CBCT) in the United States. As far as some doctors are concerned, the possibilities CBCT has opened continue to expand. Today, the technology is credited with having led to greater diagnostic accuracy, more precise implant placement, reduced chair times for patients and more.
Efficiency in Group Practice reached out to a few doctors about the impact of CBCT and their ability to provide the best possible patient care. Here is what they have to say.
Heidi Kohltfarber, DDS, MS, PhD, oral and maxillofacial radiology, diplomate of the ABOMR, adjunct assistant professor, UNC-Chapel Hill, founder, Dental Radiology Diagnostics, consultant for Dentsply Sirona.
Thanks to CBCT, patients today spend less time in the dental chair, according to Heidi Kohltfarber, DDS, MS, PhD. Doctors can better educate their patients, creating a stronger doctor-patient bond and facilitating greater case acceptance. Not only are patients more involved and proactive in their overall healthcare, they can benefit from more accurate and innovative treatment options than ever before, she adds.
"CBCT was introduced into the dental field due to the need for low cost, low dose three-dimensional images for implant treatment planning purposes," says Kohltfarber. "Clinicians were eager to improve the accuracy of implant placement and there was an obvious need to clearly visualize pertinent anatomy.
"The technology is based on a cone beam in which a dental X-ray source and reciprocating detector move in synchrony around the patient in a single rotation," she explains. "It delivers multiple high-resolution, multiplanar, reconstructed images, which provide a geometrically accurate representation of the patient's anatomy in the axial, sagittal and coronal sections with a 1:1 measurement ratio of objects within the volumetric images.
"Cone beam CT was invented from a combination of three different technologies," says Kohltfarber. "The original image intensifiers are similar to those used in cardiac imaging with fluoroscopy. It employs an algorithm used for medical CT and is usually constructed and designed on a unit that is structurally similar in appearance and size to a dental panoramic X-ray machine. As such, it will fit into a dental office."
Efficiency in Group Practice: How has CBCT led to greater efficiency?
Heidi Kohltfarber, DDS, MS, PhD, oral and maxillofacial radiology: Cone beam CT is an excellent modality, which has led to greater diagnostic accuracy, become a foundation for digital dentistry, and enhanced patient education. For example:
CBCT images can be used to produce surgical guides that are based on a clinician's implant treatment plan. This has helped to decrease chair time during implant surgery, as well as decrease the chance of post-operative complications.
It has multiple applications beyond implant dentistry, such as endodontics, periodontics, orthodontics, prosthodontics and craniofacial surgery.
It has improved efficiency by allowing clinicians to visualize the dentition without the impediment of superimposition of structures, enabling them to diagnose in multiple areas more effectively and efficiently (such as apical pathologies, periodontal bone loss, position and orientation of the teeth, visualization of the airway space and temporomandibular joints, as well as give a more accurate estimation of tooth prognosis.)
Cone beam CT volumes provide clinicians with the ability to enhance patient care through surgical simulations that improve surgical treatment planning, surgical predications, fabrication of surgical stents and post-surgical follow-up. In fact, a very exciting and emerging area is the use of cone beam CT volumes to develop 3D models, as well as 3D printed appliances and surgical guides.
Efficiency in Group Practice: How has CBCT impacted the role of dental professionals?
Kohltfarber: With CBCT, the entire dental team can be better involved in patients' health and welfare.
Dentists can diagnose patient problems more efficiently and accurately. They can provide more accurate implant placement, more accurate surgical and orthodontic results, and place same-day crowns.
Dentists can diagnose limited airway spaces, which may cause obstructive sleep apnea; observe and appropriately refer patients to their medical colleagues for vascular calcifications that may put patients at an increased risk for stroke; and visualize various pathologies while they are still treatable.
Dental hygienists can more accurately visualize periodontal bone levels, areas of bone loss and radiographic calculus. Dental assistants can take diagnostic images much more quickly than traditional full-mouth series.
Office managers can provide more efficient schedules to help improve overall patient care and satisfaction.
Efficiency in Group Practice: When is it more appropriate for dentists to use two-dimensional radiographs?
Kohltfarber: Cone beam CT is not a great imaging modality for caries diagnosis. Imaging artifacts around metallic restorations can lead to increased false positives. Therefore, traditional 2D radiographs, such as intraoral bitewings, should still be employed for the task of caries diagnosis. However, there is exciting research in the area of digital tomosynthesis currently being conducted at UNC-Chapel Hill, which may soon change the way that we view traditional bitewing radiographs.
Efficiency in Group Practice: How will dental radiology continue to evolve?
Kohltfarber: The industry continues to research three-dimensional imaging and hopes to develop new technologies that will help make dentists more productive and efficient, as well as provide patients with more options for better dental care. CBCT has given scientists the ability to observe a particular anatomic region with an accurate 3D representation, which can be segmented into a 3D model, rotated and overlaid with the same object from another time period. As such, they can easily evaluate everything from orthognathic surgery cases to orthodontic treatment, periodontal bone loss, osteoarthritic changes, limited airways and craniofacial surgery cases over time. In addition, based on three-dimensional, segmented models, scientist have been able to 3D print bony scaffolds, infuse them with stem cells and regrow various anatomical regions, such as mandibular condyles. The ability to replace a diseased area with one that is anatomically correct for the patient could be phenomenal. Other imaging modalities, such as digital tomosynthesis, ultrasound and magnetic resonance imaging, are also being evaluated for their accuracy and efficacy in the field of dentistry. Digital dentistry is just the tip of the iceberg.
---
Keith R. VanBenthuysen, DMD, FAGD, a Nashville, Tennessee-based practice owner and a consultant for Marquee Dental Partners.
Digital radiography has dramatically changed the dental landscape, says Keith R. VanBenthuysen, DMD, FAGD. But cone beam computed tomography has advanced the industry even further. "With digital radiography, we are able to share images in real-time online with our colleagues, he points out. "CBCT has taken the industry beyond that, advancing our ability to see the anatomy. It has become an invaluable tool to support dental diagnostics." In fact, many industry experts believe CBCT has emerged as the gold standard for imaging in the oral maxillofacial area, he adds.
Efficiency in Group Practice: How has CBCT led to greater efficiency?
Keith R. VanBenthuysen, DMD, FAGD: A patient's visit to a dental office looks vastly different today versus five years ago. Thanks to CEREC and related technologies, patients are finding their crowns can be completed in one appointment, rather than having to live with a temporary crown for two or three weeks. With CBCT, patients can get a proper diagnosis at the first appointment instead of making multiple visits while we watch their tooth, waiting for the symptoms to worsen.
Efficiency in Group Practice: How has CBCT impacted the role of dental professionals?
VanBenthuysen: It has done so in many ways:
Endodontists are better able to diagnose cracked teeth and vertical root fractures. They are in a better position to determine whether or not the tooth is restorable. Additionally, CBCTs can assist in determining the number, shape and position of the canals.
Oral surgeons can better evaluate the anatomy surrounding third molars, perhaps avoiding injury to the IAN. They can look at potential implant sites and pre-plan implant surgeries. In conjunction with CEREC technologies and CBCT, surgeons can create surgical guides with extreme accuracy, thereby avoiding many of the previous pitfalls associated with implant surgery. Procedures can be streamlined and performed in a more timely manner.
CBCT has provided better diagnostic imaging for doctors and hygienists, improved efficiency for dental assistants and has enabled office managers to communicate treatment recommendations more clearly with insurance companies.
Efficiency in Group Practice: When is it more appropriate for dentists to use two-dimensional radiographs?
VanBenthuysen: According to the FDA, total radiation doses from 3D CBCT exams are 96 percent lower than conventional CT exams; however they deliver more radiation than standard 2D radiography. It is my opinion that CBCT should be reserved for use where 2D radiographs and other diagnostic tools prevent doctors from making an accurate diagnosis. 2D X-rays may be more appropriate for the diagnosis of caries, periodontal disease and most endodontic cases.
Efficiency in Group Practice: How will dental radiology continue to evolve?
VanBenthuysen: It is my absolute belief that CBCT will improve our visualization of the oral and maxillofacial complex. In the future, I expect radiation exposure will be reduced and the images will further improve. We will be even better able to combine CBCT with other technologies to enhance our treatment capabilities and outcomes. CBCT, digital radiographs and intraoral scanners will continue to revolutionize the practice of dentistry by maximizing economy and accuracy, minimizing chair time and reducing patient visits.
---
CBCT continues to advance dental industry
Over the past number of years cone beam computed technology (CBCT) has decreased in price, making it increasingly prevalent, according to Eric Tobler, DMD, regional president, Stonehaven Dental, part of Mortenson Dental Partners. In addition, the dosage of radiation had decreased significantly, he points out.
"In our practice CBCT is regularly referenced for review of impacted teeth, analysis of bone in edentulous areas and for endodontic diagnosis," says Tobler. "This is especially true for the diagnosis of maxillary molars, where CBCT may detect abscesses near the sinus or the presence of MB2, which may be difficult or impossible to detect with 2D radiographs. CBCT can also be useful for organic orthodontic treatment, airway studies and the diagnosis of sinus conditions." All that said, 2D digital radiographs continue to be the preferred method for routine examinations and diagnosis of dental decay, he adds.