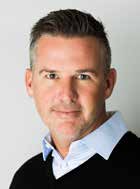 I am incredibly excited to be the new publisher for Efficiency in Group Practice (EGP). This has been the fastest growing magazine in the history of our organization. For the past 11 years, I have been the publisher of our flagship title in the healthcare space, Repertoire Magazine.
EGP is a product of Atlanta-based Share Moving Media (SMM). As the owners of SMM, my business partner and I share a common goal with each of our publications: cover the topics our audience cares about and that will help them grow their careers. Our team is dedicated to delivering content to you that will help your career, enhance your work life and, hopefully, entertain you along the way. We will begin doing this through additional vehicles such as podcasts, live events and educational videos.
As you're reading EGP, please think of topics we need to be covering or ways we can make it better and email me at [email protected]. I look forward to getting to know you over the coming years. Thank you for subscribing to our publication.
Dedicated to Your Success,
Scott Adams