…but is it the right fit?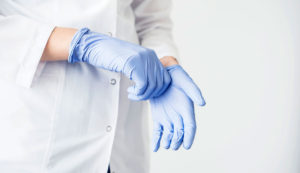 Finding the ideal glove comes with its share of challenges. With so many factors at play – from allergies to comfort, fit and dexterity – this certainly is not a one-size-fits-all scenario. But, as glove technology continues to advance, and more options become available, dental professionals are discovering more solutions designed to ensure their satisfaction.
High quality nitrile gloves, such as thin nitrile gloves with high modulus and elasticity, are said to offer excellent comfort, while providing better protection from chemicals. Neoprene gloves provide a good alternative to latex gloves in terms of great fit, dexterity and wet grip.
Ansell recommends the following as a checklist for dental professionals:
Material
Natural / Synthetic
Glove Type
Advantages
Disadvantages
Latex
Natural
Surgical Gloves and Exam Gloves
• Excellent elasticity and comfort

• Fairly puncture resistant

• Durable

• Can cause reactions among both wearers and patients with latex allergies
Neoprene
Synthetic
Surgical Gloves and Exam Gloves
• Latex-free (reduced risk of allergic reactions)

• Good elasticity and comfort (comparable to that of latex)

• Good puncture resistance

• Good chemical resistance

• Low accelerator levels

Nitrile
Synthetic
Exam Gloves
• Excellent strength

• Good fit and feel

• Excellent puncture resistance

• Excellent chemical resistance

• Lower level of elasticity and comfort compared to neoprene and latex
Neoprene gloves are well-suited for most dental procedures, but their surface characteristics make them particularly suited for procedures that require good wet grip and fine motor skills (e.g., endodontic procedures, extractions, placing veneers and crowns.)
Nitrile gloves offer good broad chemical protection (e.g., restorative procedures involving resins, composites and acids, cleaners and disinfectants). Ansell's range of thin nitrile gloves have great fit, dexterity and tactility and can be used for a wide range of dental procedures.
In addition, dental professionals should ask themselves:
What is the most common complaint I'm hearing about the gloves we currently use?
Would my team benefit from a glove designed to reduce muscle fatigue?
Has my team complained about dry or irritated skin caused by constantly changing gloves or washing hands between patients? Would they benefit from gloves made with fewer chemicals, reducing the risk of irritation, and gloves made with moisturizers to help hydrate skin?
Has my team complained about their gloves ripping or tearing when they first pull them on?
What gloves do we use to clean or disinfect our office? Do they protect against the chemicals we use?" (Ansell tests chemical permeation/breakthrough on their gloves.)
What gloves do we use to sterilize equipment?
While the cost of a premium glove can be daunting for some dentists, investing in a high-quality product can have a positive impact on the staff's comfort and productivity. In the end, the added benefits may lead to greater savings and enhanced office performance. For instance, stronger gloves are less likely to tear, reducing the overall number of cases of gloves an office must purchase in a given year. Ergonomically designed gloves are designed to support musculoskeletal health, which may lower costs associated with injuries. Accelerator-free and/or moisturizing gloves help reduce the risk of dryness and skin irritation, helping improve comfort and productivity. And, gloves designed to grip wet instruments help speed up procedures and reduce the risk of accidents. At the end of the day, when the dental team is equipped to do their job well, they – and their patients – are more likely to be satisfied.
Editor's note: Efficiency in Group Practice (EGP) would like to thank Ansell for its assistance with this article.