Pacific Dental Services empowers supported dentists to grow their practice from the ground up.
By Graham Garrison
Becoming an innovative organization doesn't happen by accident. "The way I talk about it in our organization is: 'Have your eyes on the horizon, with your nose to the grindstone,'" said Pacific Dental Services® Founder, President, and CEO, Stephen E. Thorne, IV. "If you decelerate in this business for even an hour, things can veer off course quickly. You've got to be so intentional every day, but also have your eyes on the horizon."
Since 1994, Pacific Dental Services (PDS) has been on the cutting edge of dentistry by balancing a day-to-day intentionality with forward-thinking approaches to care. It's evident in PDS' Private Practice +® ownership model, which provides administrative support while allowing professional independence for supported clinicians. It's clear in PDS' reputation as a technology leader in implementing advanced, proven technology and services for better clinical outcomes. And it's apparent in the organization's focus on service in local, regional, and global communities.
Start in Dentistry
Though Thorne is not a dentist, he comes from a family of dentists – including his father and grandfather. Thorne graduated college in 1989. Around the time of his graduation, Thorne's father asked if he would help computerize his dental office. "My father was always a fairly progressive dentist," Thorne said. "He was placing implants in the 80s as a general dentist just to give you an example."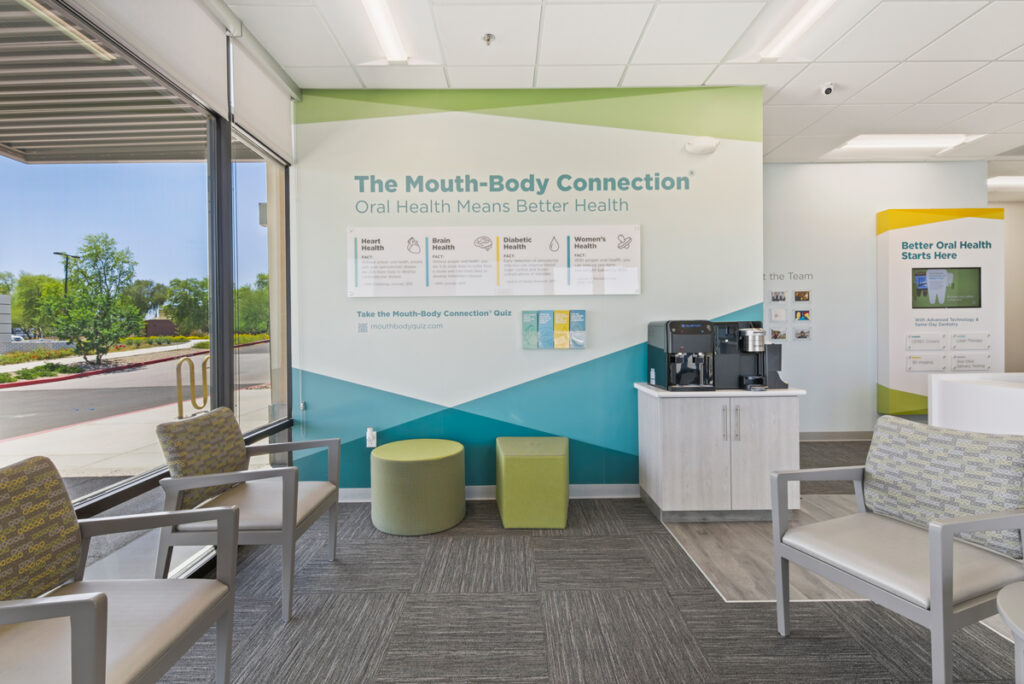 But in 1989, computers were new to dental offices, which often used pegboards for organizational and scheduling purposes. Staff often didn't know how to use computers. "But that was really good for me because I actually had to get in and teach them how to use a computer and a computer system," Thorne said. "I had to learn the CDT codes. I had to learn the business from the bottom up." Thorne joined his dad and worked for him full-time for a couple of years. Soon, a handful of his father's colleagues asked Thorne for help as a consultant for their practices. It's in this capacity that Thorne saw the potential of dental practices grouping together. Using that consultative work and business connections, Thorne did a deep dive into all the facets of how dental practices operate, from payroll and taxes to implementing new technology and dealing with insurance companies.
In June of 1994, PDS supported its first dental practice in Costa Mesa, Calif. By 1997, the company had grown to support nearly 20 practices. Today, PDS supports over 800 offices in 25 states.
The PDS Model
The single biggest advantage that PDS has over other business models is its individual office owner dentist model, Thorne said. "We have a true equity ownership model for dentists at each office," he said. "As we grow, we focus on what we call 'de novo' or new practices. That's kind of our specialty. We partner with dentists who want to progress with the company and own a practice, then find the best real estate and locations and markets, sometimes years before that real estate becomes available. This model empowers supported dentists to grow their practice from the ground up with structured support from our network of clinicians. Utilizing this growth model since the beginning, we have helped to develop more than 800 successful practices to date."
The essence of the PDS business model is to enable clinicians to focus more on the patient and worry less about the business. PDS is de novo-based and grows that way. "We have local owners with local names on the door," Thorne said.
The growth of the model is based on the demand from dentists who want to get a practice. "And I can tell you it's never been better in our history," Thorne said. "The demand for our services is at the highest level it's ever been, from longtime dentists to new graduates." For instance, PDS-supported owner dentists brought on 415 new graduates in 2019. "I would put us up there probably as the largest dental school customer in the nation."
That's not to say PDS has been de novo exclusive during its growth. From 1994 to 1998, PDS facilitated several dental office acquisitions. "So, I know about how those work," Thorne said. There are advantages and disadvantages to both approaches. For instance, with a de novo, there is a ramp-up time where the organization may burn through some cash in those initial weeks and months. "The average time for our de novo offices to hit profitability is nine months. So, our supported owner dentists have some time in which to build and grow to reach profitability. Whereas if you acquire an existing practice, you aim to be profitable on day one; that is if it was the right acquisition and you use some creativity."
The PDS model is highly decentralized to allow for flexibility within a framework because of market differences across the nation. So, working in South Florida, as an example, is a lot different than working in the state of Washington.
PDS is very clear on what it does as an organization, Thorne said. "We serve dentists. We help them serve their patients. The patients are theirs and not PDS'. But we're fervent about serving our customer's customer. PDS is in the B2B business."
Indeed, PDS is a platform that dentists can use to build great practices. "We have a lot of dentists that just like one practice, and we have a lot of dentists that want to conquer the world. So, we have dentists with multiple practices too."
"We Believe"
Even with the best model, an organization is only as good as its people. "Our people are what really make it all work," said Thorne. PDS' culture of values are based on a "We Believe" behavioral framework Thorne wrote in 1996. The framework "guides our daily lives, distinguishes the strength and character of our organization, and directs all our critical decisions," Thorne said. "By putting our 'We Believes' at the center of everything we do, we transcend the limitations of a rules-based mindset. Our 'We Believes' build trust, encourage self-governance, and inspire each of us to achieve at the highest level."
About 85% of people that come into the organization say that the belief statement is the key or a key reason they joined PDS. The organization has taken those beliefs and applied them to behaviors. For an example, one belief is that patients pay salaries. "And it's actually worked out in how we operate the company," Thorne said. "Each belief statement has a noun and a verb. If we believe something, we have a correlating action. And then we translate it to behaviors. In order to succeed, we must continuously establish something special between us and the patients served by our supported practices."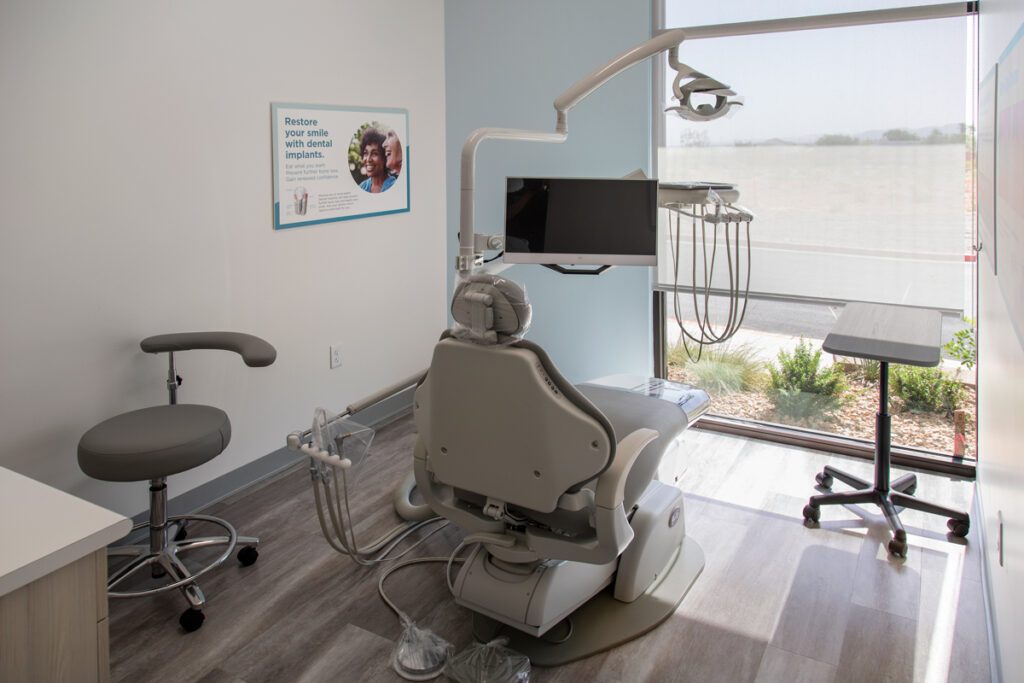 Continuing care is a key driver for the organization, but not in the traditional sense. "We don't really look at new patients as an organization," Thorne said. "It's probably not even in the top 50 metrics we watch closely. We have plenty of new patients walking in the door. What we focus on with our supported dentists is how many of those new patients do you actually keep?" Getting new patients is easy – just up your marketing bill. Keeping them in your practice, however, is much more challenging. Creating healthier, happier patients means seeking to understand what is important to them. Treating patients as individuals with individual needs and wants is part of the culture of PDS.
Service is also a key component of the organization's culture. PDS started its We Serve department in 2006 and it continues to grow. "I'm very proud of where we are in regards to service." Since 2010, PDS-supported clinicians have donated over $74 million in donated dentistry to more than 62,000 patients through monthly pro bono dentistry, the organization's day of service, Smile Generation® Serve Day, and the Pacific Dental Services® Foundation. Over 415,000 volunteer hours have been donated by employees, hours that the organization gives to its employees to serve in their local communities.
The Pacific Dental Services Foundation, another service component, includes donations and support for areas like special needs dentistry, dental assistant scholarships, a mobile dental clinic, and international service trips.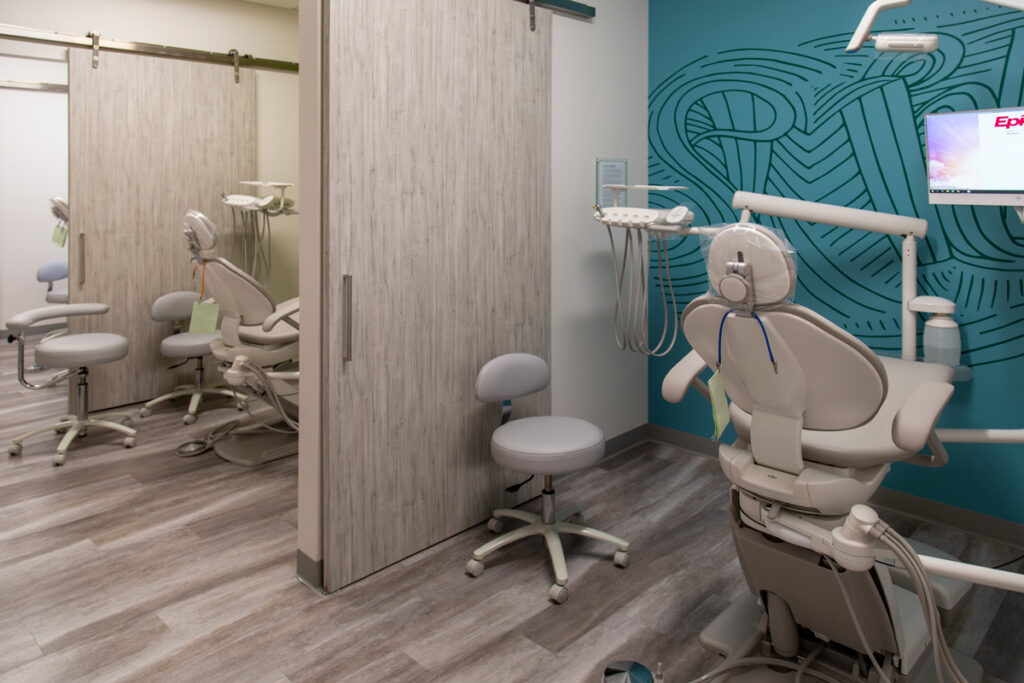 Smile Generation Serve Day, PDS' annual day of service and part of a nationwide campaign of giving, focuses on providing donated dental care to underserved patients. It includes local service projects such as cleaning up community parks and volunteering at local food banks. Smile Generation-trusted dental offices team up with local organizations and community partners such as After Innocence, Dental Lifeline Network, and Special Olympics International to help bring donated dental care to even more patients in need. Patients are provided with comprehensive oral health care, including cleanings, exams, X-rays, scaling and root planing, restorations, extractions, and oral cancer screenings. Since its inception in 2011, more than 21,000 patients have received donated dentistry during Smile Generation Serve Day, totaling $39 million in oral health care.
Ultimately, it's about being good stewards of each other and also helping those in need, Thorne said. "And what I think [other dental support organizations (DSOs)] have found in building cultures is the people that serve actually end up getting more value out of the service than the people you're serving. So, I would encourage other DSOs to continue to develop that within their organization. We're in the service business."
Higher Performance Levels
The sense of service and clearly articulated cultural values have created a higher level of performance within the organization. A lifelong learner and student of organizational development, Thorne came across a study done by a Harvard professor that helped clarify what it takes to find that next gear as an organization. The Harvard professor studied companies that were already considered high performing, looking at how they got higher performance than the norm. Most of the companies were focused on growing happy employees by serving them lunch, having ping pong tables at the break room, and other perks. While those were well-received, those efforts didn't translate to higher performance.
"What the professor found created a higher performance level was the purpose of the organization, and the clarity of that purpose drove a higher level of performance," Thorne said. "It created engagement with the team."
For DSOs, that higher level of performance means consistency. "Having your purpose very clear, and the clarity of your purpose spot on for your people to understand creates trust." Trust fuels investment. So, when people in your organization trust you and trust what you're doing, trust fuels investment in the company, the office, and the team. When trust is up, speed goes up. When speed goes up, costs go down. And when costs go down, profitability goes up.
"So, this whole idea around purpose and the clarity of your purpose is based on a very basic principle that we all understand, and that is trust," Thorne said. "Do your people trust that you have the right motives to create an organization that they want to work in and that they want to invest extra time in?"
Dentistry as Key to Overall Health
In order to improve access to oral health care, Thorne says it's essential to push for the integration of dental and medical services and for healthcare professionals to promote the practice of proper oral hygiene as a way of maintaining optimal whole-body health. There is overwhelming evidence to show that bacteria and inflammation in the mouth can indicate and even cause systemic conditions throughout the body. "At PDS, we call this the Mouth-Body Connection®. These conditions of the mouth, including gum disease, have been linked with other medical conditions such as oral cancer, cardiovascular disease, diabetes, Alzheimer's disease, rheumatoid arthritis, and more." In the future, dental practices will need to further integrate with medical practices to help provide patients with an all-inclusive continuity of care and improve both their oral and whole-body health.
"The COVID-19 pandemic has spotlighted the importance of the connection between oral health and overall health, accelerating our initiative of pushing for the integration of dental and medical services to better support the whole-body health of patients," Thorne said. "With what we now know about the oral-systemic link, it is crucial for all healthcare professionals to promote the practice of proper oral hygiene as a way of achieving and maintaining optimal whole-body health.
During the pandemic, PDS focused on the many critical infrastructure items its supported dentists needed to serve their patients and their local communities in a time of need. This included securing personal protective equipment, setting up teledentistry within a week to allow patients critical access to care, and continuing with the deployment of the Epic® electronic health records system, which integrates a patient's acute, primary, and dental health history all in one place. "With this implementation, our supported dentists now have access to their patients' health records and are able to coordinate care with other healthcare professionals on behalf of their patients – closing care gaps and reducing duplication," Thorne said. "This powerful tool helps connect what is happening in their mouth with the rest of their body, it increases access to effective dental treatment services, reduces the total cost of their dental care, and leads to better overall health for the patient."
Additionally, being part of a large health organization allows for increased access to advanced, proven technology. These clinical treatment tools are at the forefront of oral and whole-body health care and include CEREC® CAD/CAM same-day restorations, cone beam computed tomography (CBCT) and digital X-rays, soft tissue diode lasers, salivary diagnostics, and the VELscope® oral cancer screening system.
When Thorne talks about technology, these aren't initiatives that PDS will consider happening down the road. Many are actually in place. "It's exciting stuff," he said. "I often say to my team that we're no longer a DSO – we're a tech company."
Words of Wisdom
When it comes to approaching growth, the best advice Thorne said he received was to invest in the infrastructure to be able to scale profitably in the future. "By building the scalable infrastructure that you need, you put yourself in a position to create a bigger return in the long run, and it helps minimize the growing pains associated with scaling up," he said. "The business also becomes more predictable which can help attract talented people."