By Daniel Beaird
Dr. Gregory Toback regularly reflects on over 15-years of coaching in Little League Baseball and how much it shaped his approach for building dental teams today. As the founder of Resolute Dental Partners, a Connecticut-based DSO that began its journey in 2018, Dr. Toback points to unique commonalities that have helped propel the success of his young company.
"I learned the importance of building a positive team culture in baseball," said Dr. Toback, a periodontist for over 24 years in New London, Connecticut. "Not just the players, but the parents as well. There are so many negative stories about youth athletics, so the challenge was how to build an environment with high expectations, a winning mentality, while being inclusive of each team member."
During his coaching days, Dr. Toback says he learned to reflect on success and failure, work on himself and how his words and actions influenced others, and how to strengthen the team culture each day. "I did a lot wrong along the way. But I had to learn how to let go of regrets and use the experiences to make me more effective the next day. It became a personal process I still use today. The technical aspects of baseball were known far better by many other coaches I competed against. What differentiated our teams was that we learned how to understand and work with a lot of different personalities, all young and vulnerable, and how to recognize each individual and provide the support they needed. Our ability to build team culture led to our success."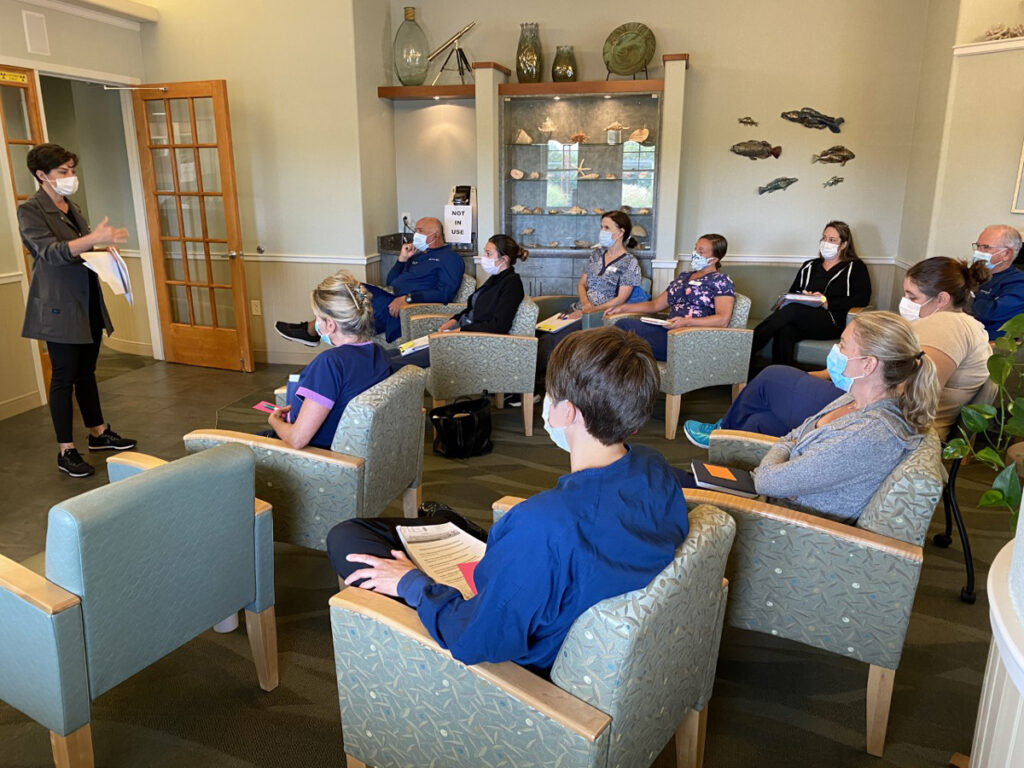 "It all translates to how I run my business today," he said.
Resolute is a doctor-owned DSO committed to the Connecticut communities it serves, capitalizing on its deep history of dental practices spanning 50 years in the state. Dr. Toback owned and operated Shoreline Periodontics for 18 years before building Resolute on a collaborative model of shared resources, technology, clinical intellect and experiences. With seven locations, 3 periodontal and 4 restorative, Resolute has capitalized on the team building skills across locations. "We are building an energized and collaborative community", states Toback.
"I love dentistry and it's the vehicle to do what I'm passionate about doing, which is problem solving," Dr. Toback said. "For many years, I focused on solving clinical problems and that allowed me to expand into solving problems for a growing company."
Whether it's baseball or business, the easiest way to building collective momentum is identifying a clear and imminent threat, he said. In baseball, it was the opponent and rival. The threat was very defined each day you walked on the field. Learning how to identify a common threat in business and dentistry was different, but Dr. Toback recognized that his early success had a similar style in getting the team to rally behind a common cause and create a winning mentality. As Resolute began to scale and acquire other dental teams, Dr. Toback realized Resolute itself was commonly viewed as that threat by other teams.
"Their comfort, security and determined future had been with their long-time dentist," he said. "And suddenly, we were the threat that could unravel that for them."
But Covid turned it all around in March 2020 as it threatened all team members without prejudice. While many dental teams went dormant, Resolute used the forced timeout to work harder than ever in team building and the creation of a community of connection and support.
"We began to prepare for when we'd be back on the field together again, to make sure we'd be in the healthiest position we could be in," Dr. Toback said. "It's staggering what we've accomplished during the 24 months following the June 2020 reboot."
Resolute provides support for all aspects of dental practice management outside of direct patient care. This means doctors can focus on what's important to them – exceptional clinical care for their patients. Its select services include centralized strategic support, leadership training, career development and practice transitions.
Similar to sports franchises, a major challenge for every growing DSO is recruitment and retention of top talent. Whether doctors or team members, Resolute has capitalized on its refined process for identifying the best prospects, and then successfully recruiting them to join the Resolute team. Dr. Toback calls it Resolute's market differentiator. "Having a winning culture goes way beyond the feel' in the company. It impacts every aspect of what we do. And success breeds success because people want to be on a winning team so our culture drives our ability to recruit the best." He says Resolute must continue to attract top doctors through leadership opportunities and providing a stake in the game.
Recruiting at Resolute isn't just about competing on price because top dental teams cannot be retained on compensation alone. "The next company to come along will just offer to pay a little more," he said. "For us, it's about creating a growth opportunity for individuals and having an environment of inclusion."
That's attractive to high-level team members wanting to belong to an organization with a long-term future.
"If I'm doing my job developing my leadership team, then that translates to seeing other leaders rise through the ranks," Dr. Toback said. "Each time that happens, I get an opportunity to step out of the day-to-day and into more strategic initiatives that continue to develop and support our organization."
Resolute's latest cultural initiative is "The Resolute Life," aimed to position the DSO as a legacy company for years to come. It's described as four components everyone strives for in their career and life, including:
Doing what we love
Doing it with people we love
Making an impact on our community
While being a whole person
"The saying, 'leave it at the door when you come to work,' isn't real life," Dr. Toback said. "Each of us is a whole person and our work personality is part of who we are. Recognizing that and celebrating it is something we can do together."
That type of servant leadership and recognition of others extends to Resolute's impact on its communities. "We're so fortunate we don't make widgets and we have this common purpose," Dr. Toback said. "Dentistry is something that influences a patient's quality of life. Most people in dentistry do it because they care about others."
That translates to the environment as well. "It's natural for our team to be engaged, and be invested in Resolute, when they feel like Resolute is engaged and invested in them," Dr. Toback concluded.