A well-functioning dental team puts patients at ease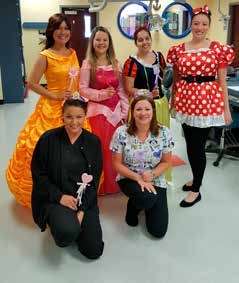 Building a strong dental team is not always easy, but it's essential to the success of the group dental practice. Particularly as dental practices work to set themselves apart from their competition, a unified team has the ability to work efficiently and effectively, and instill a sense of confidence and trust in their patients.
Indeed, the way staff members interact with one another impacts their ability to communicate with their patients, according to Kimberly Kelly, area business leader for Kool Smiles. She maintains that when the dental staff communicates well with one another, they are more likely to reach out to patients in much the same way. Kool Smiles patients receive information "in a pleasant and informative way," she says. "They can hear a smile over the phone; a smile in person is even more effective.
"At Kool Smiles, we focus on creating a memorable patient experience," Kelly continues. "We try to understand what more we can do in our group setting to give our patients exceptional care in an inviting environment. The teamwork amongst our dental staff, and their ability to work cohesively and efficiently, has a tremendous impact on the patient's overall experience. The way our team communicates, interacts and works together can be a major determining factor in whether or not we retain a patient and, in turn, whether that patient recommends us to others."
The goal is to make patients want to come back, Kelly explains. "If they have a pleasant experience – from their first phone call to the last dental assistant that walks them out – they are more likely to return to us. It really is a group effort."
The role of the DSO
Dental service organizations can help establish and implement programs that encourage a culture of teamwork, Kelly points out. For one, creating consistency and ensuring common practices throughout large group dental practices – whether across multiple cities or states – "ensures a seamless experience for both staff and patients," she says. Whether patients walk into a Kool Smiles office in Texas or South Carolina, they'll have the same experience, she points out.
It's also important to incorporate fun at the workplace, she notes. "At Kool Smiles (and our support services organization, Benevis), teamwork and fun are two of our values, and we place a huge emphasis on both," she says. And this is apparent to their patients, she adds. "They can tell when they come through our doors that teamwork [and fun are] part of who we are as an organization.
It's in our DNA!
Looking ahead, Kelly anticipates that teamwork and cohesiveness among the dental staff will become increasingly important. "Healthcare and the dental industry are ever-changing, and we have to be willing to change with it," she says. Advances in technology and tele-dentistry could present challenges, she notes, particularly as more work is accomplished remotely. "This [can be] a great time saver and it's popular with team members, but it's harder to create that team atmosphere when we're not all in the same place." Organizations such as Kool Smiles that have built their foundation on teamwork and communication will have an advantage, she adds.