ADSO Column
By Dr. A.J. Acierno of DecisionOne Dental Partners addresses the value of a strong doctor-patient bond.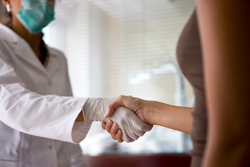 More often than not, healthcare professionals join their industry to "make a positive impact and help others," says Dr. A.J. Acierno, CEO, DecisionOne Dental Partners and a member of the Association of Dental Support Organizations (ADSO). "Unfortunately, uncontrollable elements, like insurance and government policy, have made this extremely difficult to do," he says. "Developing relationships with patients is challenging and takes time. If you overwhelm healthcare professionals with financial pressures and hoops to jump through, inevitably the doctor-patient relationship is going to suffer."
Dentists are at a crossroads, he continues. With greater government regulations and increasingly complicated insurance issues to contend with, they are faced with limited options for ensuring the success of their practice. "They can either perfect their business skills and office systems so they can survive in private practice, or they can join a dental group that fits their needs," says Acierno. "The reality is that group practices are growing, and they will continue to do so moving forward." He envisions DecisionOne as becoming the dental group that doctors want to join – not have to join.
Efficiency in Group Practice recently spoke to Dr. Acierno regarding how dental professionals have been impacted by industry regulations, and what that inevitably means for patients.
Efficiency in Group Practice: What attracted you to dentistry?
Dr. A.J. Acierno: I always looked up to the healthcare worker and the relationships they had with their patients. I knew right away what I wanted to do as a profession.  Medicine was my first choice, but I felt physicians were no longer able to consistently focus on building relationships with their patients. This did not appear to be the case in dentistry, which is how I ultimately chose that profession. 
EGP: How have government regulations and insurance protocols influenced the dental industry?
Acierno: We are more fortunate than medicine because, while government has impacted our business, it has not affected not our clinical standard. Most dentists have small businesses, and the tax issue has really hurt their sustainability and growth. In some cases, such as in Illinois, the lack of government budgets has created a major problem for dentists who are paid by the state. It's not a great business practice to tell a vendor, 'Hey I will pay you next year.' You can't do that and expect them to thrive. Also, our government has done very little to help doctors battle issues they face with insurance companies. The patient is really the only thing we should focus on. Patients want providers who actually care about them getting better. They are begging for relationships with their healthcare providers. They also want an affordable quality product that's available when they need it." 
EGP: How have the above changes impacted doctor-patient relationships, and how should dentists respond?
Acierno: The result is no different from what has happened in corporate America.  Reimbursement has decreased, and overhead has increased. Most people have expected that physician, dental and hospital groups would accept this, along with a lower salary. But – as with any corporation – physicians and dentists have had to find ways to reduce the cost of the product, while seeing more patients. This has created longer wait periods and the use of cheaper products. Longer wait periods have meant doctors and dentists have less time to spend with their patients and fewer opportunities to enhance the doctor patient bond. Ultimately, when patients ask for an affordable product, they do not realize that lower-price products often mean lower quality. There is no possible way individual dentists can fight insurance or government influence. We have to band together and solve the problem as a profession. For all of the reasons I outlined above, I started DecisionOne Dental Partners. By learning from one another, we have taken best practices to establish, teach and implement business systems and customer service principles across our offices, enabling each office to be financially successful, while at the same time allowing the clinical staff to provide patients with exceptional care and quality products.
EGP: What can be done to make dentistry more affordable for patients?
Acierno: One strategy we have implemented in our offices is an in-house, monthly discount plan. While a number of patients have dental insurance, many do not. We offer our uninsured patients a great alternative – Complete One Dental – a plan we have designed to meet the specific needs of our offices. Complete One Dental has been very successful. Our offices love it because it's much easier for them to work with than corporate dental insurances plans, and patients love it because there are no exclusions, maximums, etc. Another strategy is for dentists to continue to control costs by forming group dental practices. Group practices have great buying power and are able to maximize the efficiencies of HR, marketing, operations, accounting, insurance, IT, training, etc., across a numbers of offices. With greater buying power and efficiency, dentists can accept lower reimbursement while continuing to use great products. That said, if reimbursement falls too low, it will be increasingly difficult for dentists to find ways to ensure their financial stability.
EGP: How has DecisionOne Dental Partners created an environment that's attractive to dentists and staff, and ensures they have the tools they need to provide excellent healthcare and develop a sustainable business?
Acierno: We have partnered with doctors and team members who share [our] vision and values – altruism, teamwork and excellence – which will continue to be our roadmap for the future. Our doctors and staff value the importance of patient relationships above all else. It doesn't matter how good our model is, If we didn't maintain the mindset that we are patient advocates, we'd fall short every time.
EGP: How has the above approach impacted your relationship with patients?
Acierno: The first step is to put the right individuals and successful systems and business practices in place. The next step is to train your teams on why it's so important to do so. When they understand our systems are in place is to ensure we can provide patients with both a great experience and quality care, they will be more likely to follow our best practices and follow them well. Patients can see and feel when they are in a positive, caring environment. There is an unmistakable, amazing feel patients get the first time they walk into a great practice. These are the types of practices clinicians want to work at and patients want to visit. In this day and age, with technology and social media, word of a great practice travels fast.
---
Dr. Alan J. Acierno is the CEO of DecisionOne Dental Partners, headquartered in Schaumburg, Illinois. After receiving his D.D.S. from Creighton University, he practiced dentistry in both corporate and private environments, where he discovered the benefits and challenges of each practice. Compelled with a vision to make a difference in the way dentistry is practiced, Dr. A.J., together with his brother and fellow dentist, Dr. Michael Acierno, founded DecisionOne Dental Partners in 2011.
Over the past five years, DecisionOne has grown to 19 dental practices. As the company continues to grow, DecisionOne remains dedicated to the mission of changing the way dentistry is done to improve lives.