"Dr. Tiff" leads, expands Atlanta area's Polish Dental Centers through the pandemic
By Daniel Beaird and Graham Garrison
Dr. Tiffany Jamison-Rand is the owner and CEO of Polish Dental Centers, a group of general and cosmetic dental practices serving the Atlanta area. Known as "Dr. Tiff," she has been named a top dentist by The Atlantan Magazine and Jezebel Magazine.
Dr. Jamison-Rand has been a general dentist for over 13 years and specializes in high-end cosmetic and complex restorative dental procedures. After graduating dental school in 2007, she did her residency in New York City, and practiced as an associate dentist in Los Angeles before returning home to the Atlanta area. Today, Dr. Jamison-Rand has acquired multiple practices as the owner and CEO of Polish Dental Centers, a Dental Service Organization with locations in Atlanta, Alpharetta and Lilburn, Ga., and is actively pursuing the acquisition of multiple additional locations across the Atlanta area.
"Polish has really blossomed because we deliver a great product with great service, and we just happen to have a woman-led team," said Dr. Jamison-Rand. "We cater to all households, all budgets and all people. We have been successful because we have the resources and infrastructure of a large Dental Service Organization, but the white glove touch of a single private practice."
Community outreach
As an Atlanta native, Dr. Jamison-Rand said she feels a strong obligation to provide community outreach. Therefore, Polish Dental Centers has consistently given back in multiple ways in its 10+ years of serving the community.
"I plan for Polish to be around serving the greater Atlanta community for a very long time," she said. "As a result, I know that it is critical that this organization be seen as one that gives openly and frequently, and is a true partner to the communities they serve, rather than simply being just a vendor. Over the long term, I know that everyone benefits when the relationships are true partnerships versus transactional. That's why we are so consistently and frequently developing programs that allow Polish Dental Centers to give back.
"I really like that phrase 'purposeful philanthropy,'" she continues, "because it captures the essence of how my family and I approach giving. We have been fortunate, and so I think it's important that we share our blessings in a way that provides concrete impact for those who need the assistance most."
Polish Dental Centers has a partnership with nSoro Education Foundation. Its mission is to ensure all young adults – ages 16 to 26 – who have aged out of the foster care system have the resources and opportunities they need to thrive and become educated, confident, self-sustaining and contributing members of society. The nSoro Foundation has awarded more than 700 scholarships for post-secondary education since 2005, currently supporting 302 students at 192 universities.
"We are excited and proud to be providing $250,000+ worth of dental work to those young adults," Dr. Jamison-Rand said. "This year and moving forward – hopefully every year – we'll be engaged to help give them free dental work."
The partnership between the nSoro Foundation and Dr. Jamison-Rand was catalyzed by the story shared at the nSoro Foundation's Starfish Ball in January 2020. A 23-year-old named Justin spoke on stage about growing up poor and in the foster care system. His front teeth were knocked out when he was 13 years old and were not fixed until days before he spoke on stage at the Starfish Ball, 10 years later. He spoke about the self-esteem issues he had without having his front teeth. After the speech, Dr. Jamison-Rand told nsoro Foundation's head executive that she had to help. Polish Dental Center is especially proud of the partnership with the nSoro Education Foundation because of the profound impact that a smile can have on these young adults and the effect that it will have on the rest of their lives, Dr. Jamison-Rand said.
"In previous years, we have performed pro bono work for battered women who were trying to get back into the workforce and before that, mission trips to Jamaica," she said. "I really like doing that because it's just so impactful and it helps so many children and adults from marginalized communities."
Dr. Jamison-Rand also founded the I Love My Dentist Foundation, through which she educates and mentors teenagers and young adults. The mission is to alter the stigma of dental visits by encouraging preventive care. It also encourages youth in the community to consider dentistry as a career path.
Female-led
Polish Dental Centers is a woman-led practice.
"My closest mentors have been women," Dr. Jamison-Rand said. "But 15 years ago, when I was coming up, a company like this didn't exist. My organization allows you to both get the mentorship that you need, and you also aren't stuck doing low production work. You can achieve whatever goal you want as a dental professional. It's limitless.
"We didn't do that intentionally," she continued, "it just happens to be that way where many of our employees have found that they can connect and express themselves and just have someone that they feel is looking out for their best interests, which we are. So, I think that's what provides them with that security."
Dr. Jamison-Rand said she is excited that more women are becoming dentists, and as a result the profession is changing rapidly. "I think more women are choosing dentistry because they can have a work-life balance. That's what I aim for Polish Dental Centers to become: A place where women can have that work-life balance and still be moms and make a good living."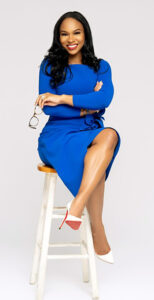 Dr. Jamison-Rand is constantly building, managing and developing her team of doctors, staff and other strategic partners. She also sets Polish Dental Centers' marketing strategy across digital, social and in-person channels. She has executed more than a half dozen acquisition and re-financings, while evaluating new opportunities for growth through acquisition and de novo platform buildouts. She is always developing her team and systems in order to improve the patient experience and deliver a consistent dental product to patients.
The team frequently completes continuing education courses to stay up to date with cutting edge best practices. "We have continuing ed for our staff every two months," she said. "Doctors are required to take at least two continuing eds, which they must utilize as soon as possible or as applicable."
She credits her staff with helping Polish Dental Centers hit its pre-COVID 2020 goals at two of its three offices, even amid the pandemic. And Dr. Jamison-Rand anticipates three new offices this year, with three more next year. "I realized how tough I was and how tough my team was," she said. "I asked, 'Guys, do we need to shut down?' They said, 'No, we're going to work through this. We're going to be on the frontline. We're going to do what we need to do to service patients and to keep the business afloat.' That was a group decision. There wasn't much hesitation about that."
'This is what you can be'
Dr. Tiffany Jamison-Rand said being a mom gives her the most joy. "My children are the light of my life."
She has two-year-old twins, and a stepson who is 21. "I'm definitely growing my business because of them," she said. "I want them to see as they get older that their mother had an impact on their community."
She said she wants her young son to see her example as the type of woman he would want to be with, and for her little girl, "This is what you can be."
Dr. Jamison-Rand credits her immediate family with helping to realize her dream of owning a group practice while raising a family. "The only way to both balance motherhood and a business is a lot of family support. My immediate family helps with my kids. It makes all the difference in the world."