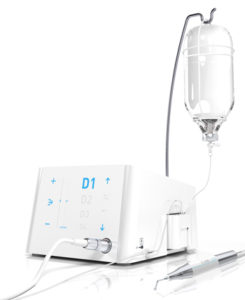 The Piezotome™ CUBE is a brand-new ultrasonic bone surgery device designed to provide superior, minimally invasive, compassionate care when performing extractions and other pre-implant bone surgery procedures. The high-frequency, ultrasonic vibrations of the CUBE disrupt the PDL and cut bone without damaging soft tissue, making it especially effective with ankylosed teeth. The extremely thin extraction tips preserve even the thinnest of bone in the buccal area for socket preservation and to facilitate immediate implant placement. Patients experience less trauma, less pain and less swelling post operatively compared to other methods, such as burs or manual forceps, potentially reducing the need for opioids and other dangerous pain medications.
The CUBE is designed to grow with the dental practice, with tips for such applications as bone block grafting, sinus elevations, ridge splitting and crown lengthening. The CUBE is a must for any clinician placing dental implants or looking to keep challenging extractions in-house.
Powered by the Dynamic Power System Inside (DPSI), the CUBE's power can be increased by 30 percent, or decreased by 10 percent, making it the most powerful handpiece available, with the capacity to provide the gentlest treatment when necessary. The LED-lit handpiece weighs 20 percent less than other comparable units, for superior ergonomics and unsurpassed visibility in posterior areas. Touch-screen operation ensures precise control of power and irrigation.
Dentists should ask themselves the following when considering the CUBE:
How do I currently perform atraumatic extractions, or extractions followed by immediate implant placement?
How do I preserve the socket during atraumatic extractions?
How do I perform bone grafting procedures?
How could my patients and my practice benefit from a new and faster way to perform these procedures, with less trauma to patients?
Some dentists may have a few concerns, such as:
"I can't afford to pay $7,200 for an extraction machine."

A CUBE costs more compared to a pair of forceps or a high-speed handpiece. But, with the versatility to perform bone block grafting, crown lengthening, sinus elevation (internal and lateral) and ridge splitting, it's much more than an extraction machine. And, is it possible to put a price on decreased patient trauma, increased patient comfort, easier-to-perform extractions and better outcomes?

"I need more time to consider such a large investment."

This is an investment with a quick ROI. If you perform five extractions each week, at an approximate cost of $90 per extraction, the practice will break even after 80 extractions, or 16 weeks. (Keep in mind the ROI is faster for a practice that performs more surgical extractions, which are more expensive.)
The Piezotome™ CUBE from ACTEON provides less trauma and less drama for patients and clinicians alike. Learn more at www.acteongroup.com/us or set up a demo at [email protected].
Editor's Note: Sponsored by ACTEON.