By Laura Thill
Branding and the DSO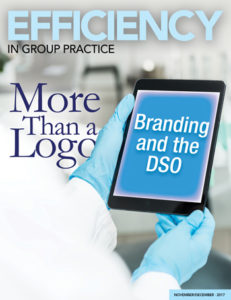 A catchy slogan? A flashy website? A cool logo? They can't hurt. For DSOs, however, branding their organization has become a way to connect with patients on a much more intuitive level. Brands today are about feeling, experience and emotion – an identity that patients can – and want to – relate to.
"Branding is about so much more than signage," says Kasey Pickett, senior director of communications, Aspen Dental Management, Inc. (ADMI). ADMI dental practices operate under the brand name, Aspen Dental, but are independently owned, she notes. "The Aspen Dental brand isn't defined by the logo, colors or the design of the office, but by a community of nearly 1,000 dentists and their teams, and their shared commitment to breaking down the barriers to better care, better smiles and better lives. The Aspen Dental brand promise is about making dentistry easier.
"American Dental Association research shows that more than 150 million Americans did not visit a dentist last year," Pickett continues. (Dental care utilization among working age adults was just 35.5 percent in 2014.) "Our own research shows that as many as 25 percent of Aspen Dental patients have not seen a dentist in over five years, and one in 10 patients has not seen a dentist in a decade or more. The reason they aren't visiting the dentist regularly is because there are so many barriers – whether emotional barriers like fear and shame, or practical barriers like cost and access. That's why our marketing efforts are really focused on communicating one message: Making dentistry easier. We want patients to understand that no matter what their barriers might be, the doctors and teams at Aspen Dental will work hard to make it easier for them to get the care they need."
"As one of the few DSOs that is 100 percent branded, at Great Expressions Dental Centers (GEDC), branding is very important and encompasses much more than signage," says Ryan Torresan, vice president of marketing and public relations, Great Expressions Dental Centers. In his 6+ years with the organization, branding at GEDC has largely focused on emotions. "GEDC marketing capitalizes on the lifestyle, passion, health, empowerment and aspirations of GEDC patients," he says. "By engaging in emotion, we can create a memorable identity every time someone sees our smiley logo – whether online, in television ads, at our SmileCenter, on outdoor signs or in the dental office. And, patients are more likely to remember and purchase services that make them feel good."
"Branding is more than the standardization of logos and fonts or something achieved by spending money on creative and advertising," says Aldo Benedetto, vice president of marketing at Benevis. "To develop a meaningful and valuable brand, it is essential to define the desired brand image and treat every patient interaction as an opportunity to build the brand. Most of the offices that Benevis provides non-clinical support to are Kool Smiles offices. The Kool Smiles brand represents high quality patient care in a fun and compassionate environment." In addition to a focus on making dentistry accessible to children, Kool Smiles maintains a commitment to serving the underserved, he notes. "Building trust, educating and ultimately providing a dental home for patients are the main branding objectives for Kool Smiles.
"We believe that people generally choose doctors based on recommendations from someone they trust – usually friends and family," Benedetto continues. "Our goal is for our patients' experiences to be positive and memorable so they are confident in recommending us. As you might expect, a focus on patient experience plays a significant role in patient retention, which is a key area of focus for our organization.
"Professional, eye-catching signage, appealing creative, and an intuitive, well functioning website are requirements in the industry these days, as patients expect nothing less from providers," Benedetto says. "However, in order to stand out in the marketplace, it is important that every aspect of the patient experience is considered. It is challenging to manage the many interactions that occur between exposure to an ad, the first call to schedule an appointment, appointment reminders, rescheduling, in-office experience and follow ups, but because of the difficulty, few do it very well, creating an opportunity for those committed to patient experience."
Indeed, branding is largely about the patient experience, notes Torresan. Rather than telling patients what to think and how to feel, GEDC connects with them. "Branding builds trust, and one way we do that is by incorporating the patient experience. We put the patient at the heart of the services we promote. For example, take the original photography we use in our print and digital advertising; not only does it showcase how a variety of dental services, like whitening or orthodontics, fits patients' lives, but it features patients in their everyday natural settings, engaged in healthy activities. The goal is to show the healthy lifestyle they want to live.
"Showing how GEDC products and services fit people's lives reinforces the brand pillars of GEDC and further solidifies an emotional connection with our audience," Torresan says. It is an approach that reinforces in-office patient education on the benefits of the service. "It is one reason why the office design and segmented digital communications is built around our patients' flow and brand. From the consistency in the office colors, phrases and placement of messages, and timing of when the digital message is received, to the passion behind what the messages stand for, GEDC is able to reinforce our brand to our patients, which helps with retention and loyalty."
Branding across the organization
It's one thing to achieve a sense of community within a dental office. It's quite another to create that same sense of belonging for hundreds of clinicians at multiple locations. "For dentists who own and operate Aspen Dental branded practices, the benefit of being a part of the Aspen Dental network is the culture of community, collaboration and camaraderie," says Pickett. "Our dentists get the best of all worlds – the freedom to own and operate their own private practice under the Aspen Dental brand; the mentorship and support that comes from having access to a network of 1,000+ like-minded dentists; and the business and marketing expertise of our team of experts at ADMI."
A centralized approach to branding is key to conveying a consistent message across a large DSO, according to Benedetto. It's equally important to ensure the staff at each location is engaged and on board with the corporate message, he notes. "Centralization of our branding and marketing has allowed us to develop deep expertise in the technical customer experience delivery, and has also allowed for control of the brand and consistent messaging," he explains. "We have also developed guidelines for local marketing, which has improved consistency of execution. However, hiring the right people and making sure those people are engaged and focused on memorable experiences is the key area of focus. Our leaders are great ambassadors of our brand and our culture, and have really done a great job of managing this at the local level."
When team members understand the brand and respect its value, they tend to stay the course, rather than go rogue, notes Torresan. With the right tools in place, DSOs can encourage all of its dental practices to follow the branding and convey that message to patients, he points out. For instance, GEDC offers its dental practices:
A brand plan that provides guidelines, pre-defined standards and offers for operations leaders.
A local marketing budget for each vice president of operations that allows him/her to choose his/her own marketing or community involvement sponsorship for his/her offices, while having the centralized marketing department create the ads and marketing materials within the brand standard. Ultimately, the marketing department holds the trump card in case requested marketing is something already offered or a conflict for the brand.
Pre-branded items, which each dental office (with its own unique user ID and password) can order through a centralized online store 24-7.
A marketing calendar published in advance of actual promotions, educating team members to communicate with their patients/customers.
An email channel for input that is routed to the entire marketing team, which can be weighed for future marketing decisions, etc.
"Alignment with operations is also key, as service inside each location is a reflection of the brand," says Torresan. "You want to have operations onboard with the marketing plan and brand, create an understanding of the brand, and provide information that supports the brand/company to ensure the brand is consistently represented. This will help with the execution of promotions and the removal of items that violate the branding." A strong brand depends on a strong, centralized marketing department, with buy-in from operations and team members, he adds.
Taking a global perspective
DSOs work hard to provide easier access to dental care and "make the patient experience easier for all," says Torresan. As the patient demographics change from region to region, or from one dental office to the next, however, marketing tactics must be flexible. "A successful dental practice is part of the community within a few mile radius of the office, so people around that office want to see marketing that resonates with them," he points out.
Rather than base the process on team member opinion, the DSO should start with market research that focuses on demographics, lifestyle purchase/activity data and consumer-need research, notes Torresan. "Once you build a model and analyze the data, sense-check it by talking to the team members in the location to see if their insights generally match back to the data," he says. "If it does, you know you have strengthened your marketing efforts and will help meet the needs of the office. Those team members can also become a trusted source at that location, who can help you customize it to the local community. Market segmentation and automation based on that segmentation is important to customizing marketing for hundreds of locations. It will ensure that marketing better matches customer needs; is a stronger market strategy leading to expansion; and is a lifecycle market, which will help with retention."
"After we commissioned a few research studies and did consumer focus groups with both our patients and people who are not our patients (or who did not go to dentist in the last 12 months), we learned what they wanted inside a dental location – in terms of the communication inside the office, as well as what transpires before and after they leave the office," says Torresan. "This led to a campaign to hang artwork that reflected giving back to the local community in the hallway between the lobby and operatory. It also gave us direction to segment email marketing based on the treatment they recently received and GEDC activities in their zip codes." As a result, GEDC ensures its marketing campaigns resonate more closely with patients – taking into account their background and their interests.
"Any company that is doing search engine optimization or search engine marketing should be doing demographic and lifestyle analytics at a very localized level, as well as be building tagging framework," says Torresan. "Success in online marketing is dependent on targeting demographics and lifestyle, and tracking the results to optimize."
An industry in transition
The traditional healthcare delivery model is changing, notes Pickett – a change that is patient-driven. "Patients are demanding affordability, personalized services, transparency, access and convenience," she says. "At Aspen Dental, our brand is all about making it easier for patients to access the care they need, on their own terms."
Indeed, as the dental industry becomes increasingly competitive, and patients have more choice in managing their healthcare, "poor experiences are an easy way to lose patients," says Benedetto. "There are many ways to impress patients, but our approach has been to focus on the experience," he says. "Our teams go above and beyond every day, and we are proud of what they do."
Particularly as consumers depend increasingly on technology – smart phones, the Internet, Facebook and other social media sources – to connect with brands, DSOs will have to expand their marketing campaigns, Torresan points out. "Marketing is about values, and in the dental industry, patients value a healthy family," he says. Moving forward, dentists and DSOs will need to be clear about the message they want to convey to patients, he adds.
In addition, healthcare – including dental healthcare – has come to be regarded by some as a discretionary expense, Torresan continues. Patients now demand greater transparency when they interact with providers and GEDC, in turn, has expanded its brand to ensure it meets all patients' needs. "Our approach today is to make it as easy as possible for people to get dental care," he says. As a result, the organization has adopted an emotional-based approach to advertising. By communicating with patients in a way they appreciate; by emphasizing affordable dental care with programs to support it; and by educating patients about the value of dental services and showing them how it can fit their lifestyle, GEDC intends to make the patient experience more positive than ever. "The bottom line is that consumers have choices, and if we are lucky, we have a few seconds to get them to understand the services we offer and how we can help them," he says. "Our goal is to make an emotional connection with our patients."