General dentists are specialties' North Star at Community Dental Partners.
By Daniel Beaird
Community Dental Partners has pediatric dental offices across Texas. Its pillars of culture define its foundation – how its people think, act and communicate. Each pillar supports how Community Dental Partners creates its experiences for doctors, patients and staff.
This culture drives everything Community Dental Partners does, including how it incorporates specialties into its practices. Orthodontists and oral surgeons have been integrated into its DSO model to help general practitioners (GPs) be successful and help these specialists expand their own clinical capabilities to reach their goals. Community Dental Partners provides practical leadership to orthodontists and oral surgeons that supports these specialists' needs and focuses on building relationships.
"We focused on the general dentist and specialties have taken off," said Dr. Craig Copeland, chief dental officer of Community Dental Partners. "This has been our most effective route. The general dentist is our North Star."
For Community Dental Partners, that helped create the alignment necessary for introducing specialties. The more educated their GPs are on specialty types like orthodontics, the more they refer. "Our ortho points to this," Dr. Copeland said. "The more education they get, the better."
Dr. Copeland says they previously struggled with orthodontics without the right leadership in place. "We thought about being done with it, but we couldn't do that. It's a hard transition out of it. Once you're committed to it and put metal on someone's teeth, you're committed to it for a long time," he said. "But we've had more success with the right leadership in place that creates better alignment."
Organizational and facility alignment
Addressing facility space is the top priority to organizational alignment. "If the specialty has a dedicated space, especially ortho, it works much better," said Jodi Evans, former COO of Community Dental Partners. "We overlooked facilities in the beginning but now we understand what needs to be in place for that specialist to come in and work better together."
Working in the same space limits the GP's ability to see patients and can affect their ability to produce. Community Dental Partners provides orthodontics its own bay. "It's brought so much more alignment," Dr. Copeland said. "If ortho takes the GP's space, the GP doesn't want to refer to them."
"And ortho could leave the facility a mess for a general team coming in the next day and that's a constraint that bogs down a practice," Evans added.
The orthodontic bays for Community Dental Partners are 1,000 square feet and include five chairs, a lab, an ortho office for the doctor and front desk space. Its general pediatric offices are 6,000 to 7,000 square feet overall.
"We tried to get patients to drive to other facilities to get specialty care," Evans said. "But that didn't turn out as smooth as we thought it would, especially with ortho, and it complicated the operational side quite a bit. It can be confusing for the patient, and it wasn't our strong suit."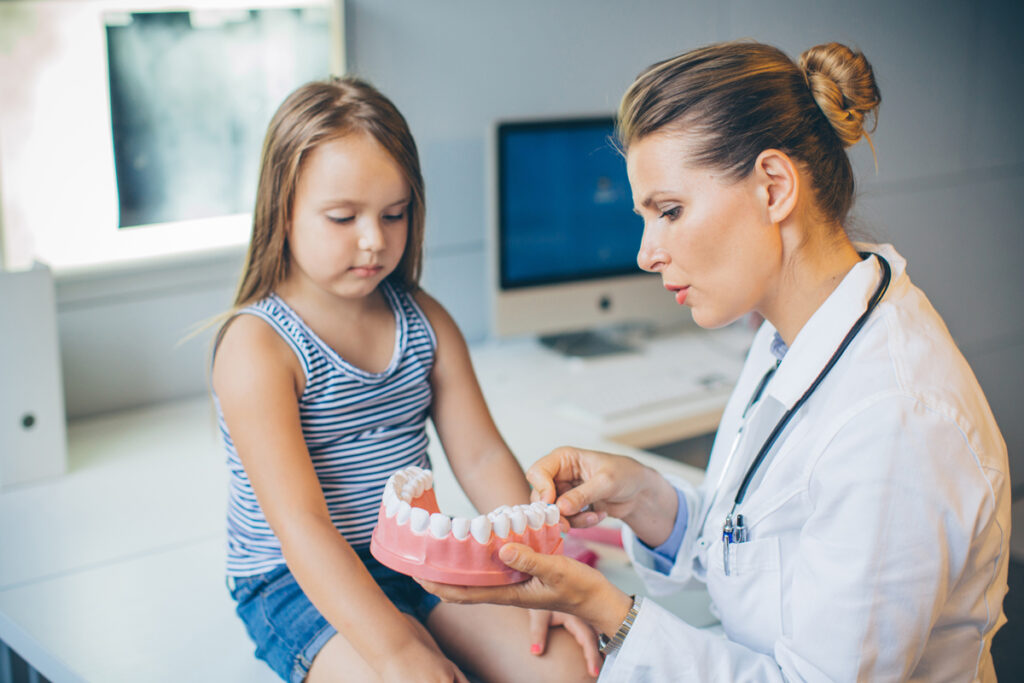 Oral surgery schedule
For oral surgery opportunities, Community Dental Partners typically offers it on Mondays before GPs work their Tuesday-to-Saturday schedules. "If the patient has to come in another day, we take chairs away from GPs. We've had issues with that, so ideally, we're doing it when the GPs aren't there," Dr. Copeland said.
"We don't want friction between the GPs and specialists," he continued. "We want to make it so easy for the GPs that they don't think about it. They see the patient, they tell their assistant what the patient needs, and they take them to the specialist."
They created an organizational chart for their GPs to make sure patients were being referred to their specialists. They also created small steps in the process to reduce friction after feedback from their GPs.
"A general doctor who wasn't referring to our oral surgeon called me," Dr. Copeland said. "That doctor said, 'I never know if the patient gets treated, but I always get a letter back from this outside oral surgeon saying the patient was treated and thank you for the referral.' So, we had to create things like that in our process."
"We needed to clean it up, but that became our superpower," Evans added.
Practice ownership
The practice manager owns everything happening in the practice, including both general and specialty. The specialty manager is the assistant manager. "We make sure they understand that when they're in that practice," Evans said. "They're serving that practice manager and general doctor."
"Our oral surgeons have done so well that they're referring their friends," Dr. Copeland explained. "We show them our presentation and start with our culture – who we are, who we want to serve and how we want to serve them. We walk through our pillars of culture, our clinical constitution and our expectations of our employees."
"We let them know they need to treat GPs as their customers because they're going to be referring to them," he continued. "For example, if a GP gets stuck in an extraction, the oral surgeon needs to help the GP. They need to do it for them. Then they will think of the oral surgeon when they're referring."
Dr. Copeland says Community Dental Partners creates the vision for their oral surgeons with an aim of up to six offices, 12 or more patients per day and production around $12,000. "But typically, our oral surgeons are producing $15,000 to $20,000," he said.
They have three chairside assistants and two front desk employees checking in patients and handling insurance claims. Community Dental Partners pays for the front desk employees and splits payment with the oral surgeons for the chairside assistants. Oral surgeons earn 50% of billable production, while orthodontists earn a daily rate.
"The general side has felt so much support knowing that the specialty side is there to guide them and insure they don't fail," Evans said. "There are follow ups telling them what happened to the patient or to the lead. We provide proper support in specialties so that patients become long-term patients for both the general side and specialty side."