When beautiful, long lasting restorations are at stake, Aquasil Ultra fits the bill.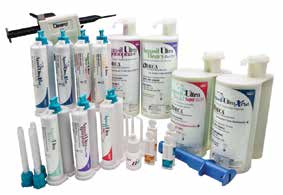 At a busy group practice such as Allied Dental, there's little room for error. With over 30 locations throughout New Jersey and Pennsylvania, the dental group must ensure the services it provides to patients are "done right the first time, every time," says Dr. Dan DiCesare, founder and director of internal growth and development, Allied Dental. "Our number one goal is to deliver the best care and experience for our patients." To do so, Allied Dental depends on high-quality, reliable products that deliver consistent results with minimal chair time.
For over five years, Allied Dental has encouraged all of its practices to look to Dentsply Sirona for a number of products, including the company's Aquasil Ultra Smart Wetting® Impression Material. "Allied Dental is committed to using materials that provide optimal results for our clinicians and, by extension, our patients," says Dr. DiCesare. "Virtually all of our locations use Dentsply Sirona's procedural solutions because they see predictable, high-quality results." In addition, Allied Dental takes advantage of Dentspy Sirona's training program to ensure their clinicians "understand and incorporate best practices into their clinical routine," he adds.
Accuracy and detail
After testing other impression material solutions, it became clear to the doctors at Allied Dental that Aquasil Ultra was the ideal choice for their organization. "Accuracy and detail are the most important clinical benefits for our doctors, and we know that Aquasil Ultra will help us deliver beautiful, long lasting restorations for our patients," says Dr. DiCesare. "The materials are easy to use and deliver consistent results, reducing the risk of costly remakes and retakes. This has enabled us to minimize the amount of chairtime allocated to the crown insertion visit. "At Allied Dental, our offices are focused entirely on enhancing the patient experience," Dr. DiCesare continues. "Our partnership with Dentsply Sirona helps us deliver on that mission." Using Aquasil Ultra has led to "fewer errors, more accurate impressions and better fitting crowns, helping reduce unnecessary costs by reducing unproductive chairtime." Indeed, less time in the chair often means a more comfortable – and less expensive – visit for the patient. "We make it a point to pass our savings on to our patients," he says. "Everyone should have access to affordable, high quality dental care."
Aquasil® Ultra+ Smart Wetting® Impressions Material With the introduction of Aquasil Ultra+ Smart Wetting Impression Material, clinicians no longer need to choose between wettability, tear strength, speed or delivery options. Aquasil Ultra+ Smart Wetting Impression Material is a final VPS impression material indicated for use in all dental impression techniques, and is available for purchase through approved Dentspy Sirona distributors. Aquasil Ultra+ impression material's market-leading intraoral hydrophilicity and intraoral tear strength offer clinicians a no-compromise solution to their final impression needs. Its intraoral hydrophilicity is designed to help clinicians avoid trapping fluid when the material is syringed into a moist environment, helping reduce the risk of voids and bubbles at or near the margin. Its intraoral tear strength is designed to help clinicians reduce the risk of tears at the margin when the material is in thin cross sections and while being removed from the patient's mouth. To learn more about the benefits Aquasil Ultra+ impression material can offer your clinicians, visit www.AquasilUltraPlus.com.