Sponsored Content: Align Technology
James Wayne Leonard, DMD, has been using an intraoral scanner for more than 20 years and today, considers it the go-to tool in his technology-driven practice. "We are known for our technology—our practice is a lean, mean technology machine!" he says. As for intraoral scanners, "They are not just about making crowns or providing Invisalign® treatment. My iTero® Element scanner is a very versatile, full-practice tool. In fact, it is the most advanced technology we have in the office."
Dr. Leonard has been practicing dentistry for 23 years, first in private practice, and for the last 6 years at two Heartland Dental locations, Smiles on Beach Boulevard and Sawgrass Complete Dentistry, in Jacksonville, Florida. He also serves as a Heartland Regional Doctor Mentor of Operations.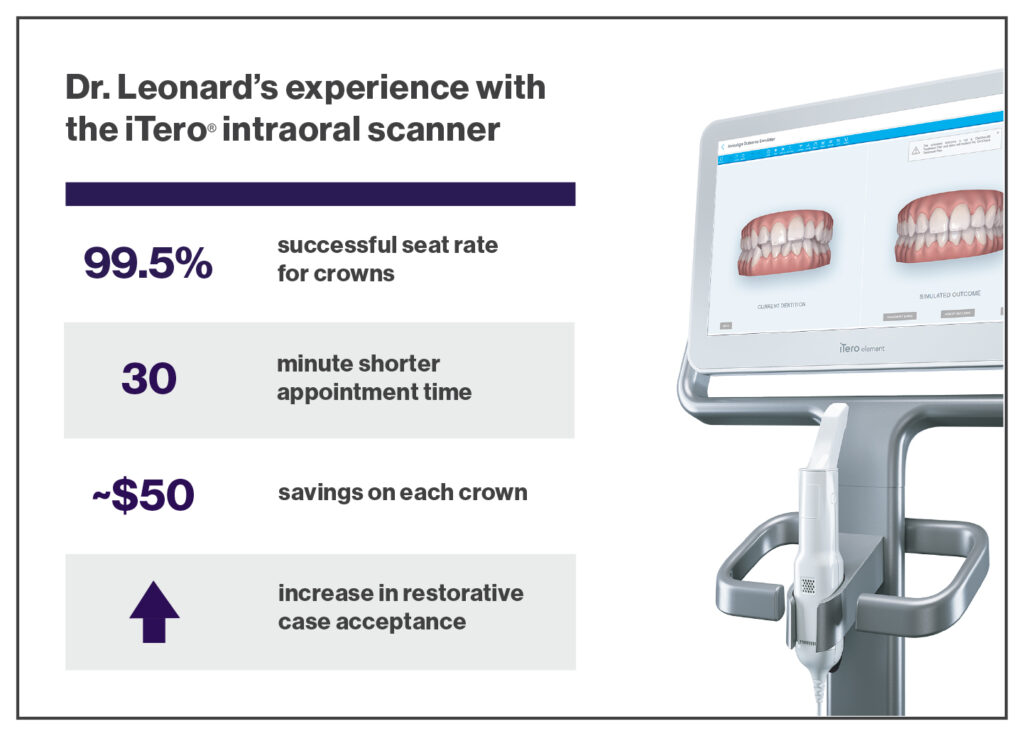 Dr. Leonard has had an iTero Element intraoral scanner for four years and relies on it for patient education, tracking and updating patient records over time, and for creating digital impressions for restorative and implant cases. He considers the iTero scanner to be critical for gathering data for treatments, including smile makeovers, orthodontics, implant-supported and traditional crowns and bridges, removable dentures, and implant-retained partial and full dentures. He notes the dental assistant and hygienist lead the charge in utilizing the full mouth scan to promote patient education. The hygienist always take a scan before they start a cleaning.
Dr. Leonard considers the role that iTero visualization technology plays in patient education to be extremely beneficial to helping patients understand their oral health, from periodontal tissue status to bone loss and the condition of their dentition. "We take a look at the scan together," he says. "It is a more effective and faster way to educate patients than trying to explain things with just words." Dr. Leonard notes that it is no longer necessary to take intraoral photographs for patient education when he can use an iTero scan to then show patients the size of an amalgam, a broken tooth, or cracks around a filling magnified on a screen.
He also uses iTero scans in conjunction with Digital Smile Design to plan smile makeovers together with patients, and uses the TimeLapse feature to demonstrate how their teeth have moved over time. "If they say, 'This one tooth hasn't moved,' I can use TimeLapse to show them a snapshot of small changes that have occurred to date which they might not have noticed otherwise, such as tooth wear or gingival recession. They trust it and love it and it gives them greater confidence in their treatment plan," he explains. Dr. Leonard uses this feature to help patients understand the value and success of any type of dental or orthodontic treatment. "This is not a reactive tool, it's a proactive tool—we're not just showing patients what we can do, we're showing them what's there. It keeps the doctor/patient relationship healthy."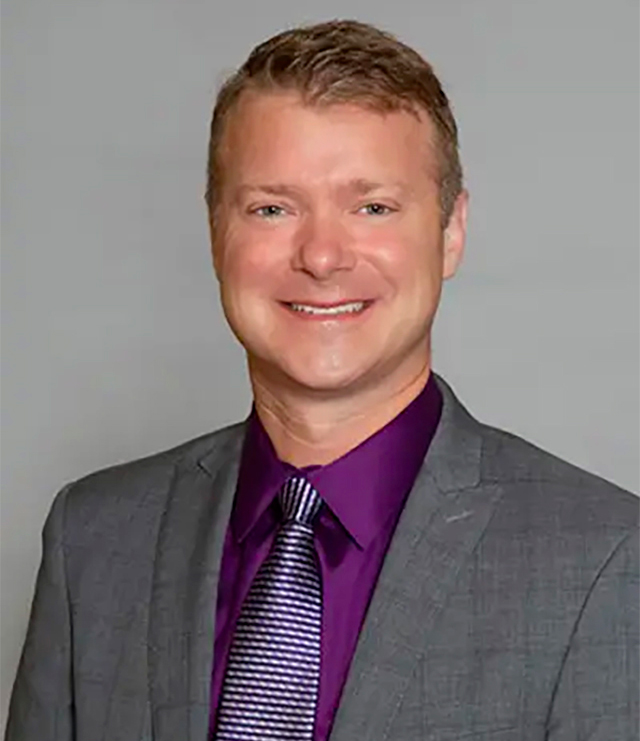 According to Dr. Leonard, restorative case acceptance has gone up considerably because patients are fascinated with the iTero technology and its visual educational aspect during their appointments. And the Invisalign Outcome Simulator on the iTero Element scanner helped Dr. Leonard's Invisalign cases double within the first 6 months, with revenue increasing from $1.4 million per year to $2.5 million1. He attributes these areas of growth to his ability to show patients simulations of proposed treatment outcomes, which empowers them to better understand the treatment they are receiving. "It doesn't mean they will always accept treatment immediately," Dr. Leonard notes. "But when we provide the [Occlusogram] image showing bite problems, wear, or broken-down teeth, the patient has a chance to own his or her problems. This technology helps them trust the treatment plan."
Patients are not only impressed, but also appreciate the time-saving accuracy of digital scanning, as do the dentists and dental labs using the technology. Digital scanning takes less time than making a PVS impression and results in 10x fewer rejections when submitted for Invisalign aligner production2. Also, through the direct connection between doctors and labs, communication with dental labs and consultations with specialists has never been easier.
In addition, crowns are usually returned from the lab within 4 or 5 days, so patients are in temporaries for a shorter amount of time. And with his practice's 99.5% successful seat rate, crowns and other restorations fit much better without alteration.
"This all makes for a great work life," Dr. Leonard says. "I have more confidence. I walk into the operatory knowing that things are going to work out well. I have more time to talk with patients about what they really want for their potential future smile. I can talk to them more as a person while the technology helps them understand what's going on as a patient."
Dr. Leonard also notes that in his experience, patient appointments can be substantially shorter with digital scanning and describes some of the other advantages: "Any discrepancies can be addressed while the patient is still in the chair and there will never be any distortion of the scan, either at the dental lab or in the patient record. Scans are uploaded to the dental lab in the time it takes me to walk out of the operatory. Plus, cases can be tracked at MyiTero.com by both dentists and laboratories, so everyone always knows where in the process the case is." He estimates that he saves $7 on impression material, $20 on materials for each crown, plus his lab gives him a $20 discount for using digital scanning. "So, I'm saving $50 a crown [over traditional workflows], with case acceptance up 10%," he explains.
For Dr. Leonard and his team, the iTero scanner has become an integral and indispensable part of patient assessment and treatment. If clinicians are considering adding the intuitive, open-system iTero scanner to their practice, Dr. Leonard advises that "You have to go for it in full force. It takes courage! Don't try to grow into it or you will always be bogged down. Just dive in and start doing it. Help is only a phone call away—it comes with a tremendous support system. Every single day I think I could have shown patients more or done even more with the scanner!"
1 An independent evaluation among all iTero Element orthodontic users indicates sustained average/additional Invisalign case increase of 22.67% through 12 months and 27.88% through 24 months. *Study sponsored by Align Technology. Retrospective data evaluation and quantitative analysis completed by Dr. MacKay, University of Memphis. 495 Orthodontic practices worldwide. Accepted for publication in the Journal of Clinical Dentistry.
2 Rejection calculated based on cumulative submissions of PVS and iTero scans from January 2017 to June 2018. Data on file at Align Technology, as of July 2018.