Waterline Treatment
By Laura Thill
Waterline disinfection helps ensure a safe patient visit.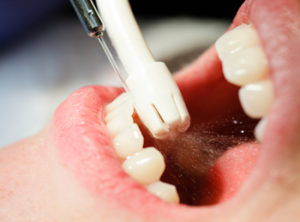 Improperly or poorly treated waterlines can place dental patients and staff at risk for infection, as well as create a liability risk for the practice. Some dentists may believe they are taking sufficient steps to reduce the risk, when, in fact, they are not. Using distilled water, cleaning bottles daily and refilling them with fresh water, and installing filters are not enough, according to experts. And, while waterline cleaner tablets provide a good start, total compliance is required each time the water bottle is filled, and often the practice doesn't follow up to ensure tablet protocols are followed consistently.
Once the source water – whether it is tap, filtered or distilled – reaches the narrow bore tubing of the dental unit waterlines, a perfect storm for biofilm growth develops, notes Leann Keefer, RDH, MSM, director, educational and professional relations, Crosstex. At the same time, microorganism counts exceeding the recommended 500 CFU/mL in the DUWL conflicts with the standard best practices of infection prevention and control. "Waterborne pathogens exist in all forms of water that are not sterile, including distilled," she says. "To quote a highly respected colleague, Dr. John Molinari, 'If you're not doing anything to treat the dental unit water, it's contaminated!'" Ignoring water line treatment is neither ethical nor acceptable, she adds.
"Dental unit waterlines (DUWL) must be effectively and efficiently treated to maintain acceptable safe and approved colony-forming-unit (CFU) counts," Keefer continues. "For the past 50 years, Crosstex has been committed to focusing on safer patient care through innovative, high-quality solutions to ensure maximum compliance, in addition to offering an outstanding patient experience. It is critical for a client to understand the science behind the product, as well as following the validated product instructions for use (IFUs) for best performance."
Indeed, the performance of a product is only as good as the accuracy of implementation according to the product IFUs, Keefer continues. "Compliance with DUWL treatment and the manufacturer's IFUs is an important safety issue for the patient, staff and practice. The IFUs address the comprehensive DUWL treatment protocol, which may include the product as well as issues of frequency related to shocking recommendations and monitoring of CFU count. If a practice is only implementing one of three recommended steps or compromises on the frequency of treatment, the product is not being used in accordance with the IFUs." (Daily-use products have a detailed list of protocols, which must be followed daily, weekly and quarterly to assure effective treatment outcomes.)
Addressing best practices
As a leader in infection prevention and control, Crosstex is committed to scientifically based programming to address best practices of infection prevention to provide a safe dental visit for the patient, clinician and the practice, says Keefer.  Indeed, the company is a big believer in providing its dental customers with strong educational programs and sound solutions to help them protect their patients and staff.
There are several DUWL treatment options available to dentists, including:
Routine chemical shocking protocol.
Tablet protocol.
Cartridge delivery protocol.
"While each method, used in compliance with IFUs, can be effective in managing CFU count, automated treatment with the annual installation of a Crosstex DentaPure® cartridge provides continuous treatment for dental unit waterlines, reducing the need for daily or weekly intervention," says Keefer. "DentaPure cartridges reduce staff time while increasing compliance with protocol, decreases the incidence of human error, and reduces the exposure of the staff to potentially caustic and toxic chemicals." Together with DentaPure cartridges, Crosstex Liquid Ultra® Solution helps ensure compliance with EPA standards for potable water, she adds. "DentaPure cartridges are EPA registered to provide water =200 CFU/mL. And, when used as directed, Liquid Ultra is EPA registered to provide water =500 CFU/mL and it reportedly is the only EPA approved in-line product that kills biofilm bacteria," she says.
By providing educational resources to clinicians and distributor field sales reps and service technicians, and by arming sales reps with patient resources to share with customers, "Crosstex has created educational touchpoints in every arena of safe dental unit waterlines," says Keefer. "Crosstex is an AGD PACE-approved provider with CEU programs at national meetings and on-site practice-based learning events, and through VIVA Learning for live and on-demand CE webinars. Our Client Care team and educational toll-free STERILE Helpline (1-8558-STERILE) are ready to address both clinical and regulatory questions."  (Visit http://crosstexlearning.com/training.asp for the complimentary on-demand DUWL CE webinar.)
Easy maintenance
Dentists appreciate the value of infection control protocols, including waterline treatment. But, some may express concerns about managing the compliance process and maintaining records. Once installed, however, the DentaPure cartridge requires no monitoring or shocking for 365 days, or 240L of water usage if records are maintained, notes Keefer. "If an office is concerned about monitoring CFU counts, we recommend independent testing by an outside laboratory," she says. "For offices that are concerned that the iodine level stays within the range provided in the DentaPure cartridge IFU, Crosstex offers iodine test strips." Testing frequency – both for CFU counts and iodine levels – varies by practice, she adds.
Crosstex strongly recommends the following best practices in conjunction with use of its DentaPure cartridges and Liquid Ultra™ Solution:
Flushing for 20 to 30 seconds between patients.
Sterilizing all handpieces after each use.
Emptying independent water bottles nightly and setting them upside down to dry to avoid biofilm growth from untreated water remaining in the bottle.
Wiping down the outside of the cartridge with a clean paper towel before replacing the bottle.
Filling bottles with fresh water (tap or distilled) each morning before each use.
Editor's note: All DentaPure claims based on use with potable water.
_________________________________________________________________________________________________
Waterborne opportunistic pathogens in DUWLs
While some organisms have been identified in dental unit water as a result of back-flow from patients (oral microorganisms) the majority of microbial species found in DUWL output water are Gram-negative aerobic (without oxygen) heterotrophic (live off of others/carbon loving) mesophilic (heat loving) environmental (waterborne) bacterial species. These opportunistic waterborne bacteria attached to the inner-surface of the tubing with an insoluble slime layer. As the microorganisms grow and multiply, they create a more complex and potentially pathogenic environment. Eventually pieces of the biofilm may break off and be carried through the dental tubing via the waterflow eventually delivered to the patient's mouth.
In the past it was recommended to flush dental waterlines at the beginning of the clinic day for several minutes to reduce the microbial load. However, studies have demonstrated this practice does not affect biofilm in the waterlines or reliably improve the quality of water used during dental treatment. Therefore, this has not been recommended since the publication of the CDC Guidelines for Infection Control in Dental Health-Care Settings in 2003. It is still necessary to discharge water and air for a minimum of 20 to 30 seconds after each patient, from any device connected to the dental water system that enters the patient's mouth (e.g., handpieces, ultrasonic scalers and air/water syringes). This procedure is intended to physically flush out patient material that might have entered the turbine, air or waterlines. Even though the initial flush of the day is no longer indicated, it's still a good idea to perform a quick flush of the lines before each patient to ensure everything is working (e.g., that the air/water syringe is attached correctly and water/air is flowing) before beginning patient treatment. (Reference: Centers for Disease Control and Prevention (CDC), Guidelines for Infection Control in Dental Health-care Settings, 2003. MMWR 2003; 52(No. RR-17):1–66.