EGP New Products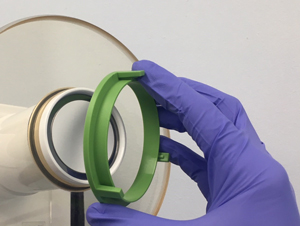 Flow Dental's new Bullseye is an essential add-on for any dentist who uses a hand-held X-ray. With hand-held imaging, it's possible that the X-ray may move during exposure and fail to align properly to the sensor, phosphor plate or film. The Bullseye alignment ring acts as a docking station, ensuring the X-ray remains properly aligned and thereby eliminating cone-cutting, blurred images and embarrassing re-takes. The universal alignment ring works with all handheld X-rays, including NoMad® and Xray 2Go*.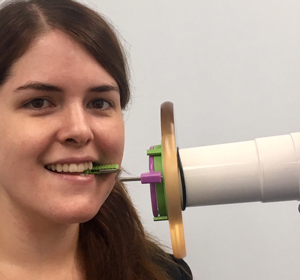 The Bullseye is easy to use. Dentists simply peel and stick the Bullseye ring to the acrylic shield on their handheld X-ray, then slide the aiming ring on the positioner along the aiming bar until it passively nests within the Bullseye ring. Bullseye is re-usable and mounts permanently on the handheld X-ray.
Clinicians can determine whether the Bullseye alignment ring by Flow Dental is right for their dental practice by considering the following:
Do I use a hand-held X-ray in my practice?"
How would a product designed to eliminate the risk of cone-cutting or blurred images when using a hand-held X-ray benefit my practice?
Some dentists may question whether it's practical to purchase a Bullseye alignment ring:
"I am concerned about the cost."

A Bullseye retails for only 20 bucks.

"Is it disposable? How often must I replace it?"

The Bullseye is re-usable. Stick it on your hand-held X-ray and you are good to go.

"Will the Bullseye add weight to my hand-held X-ray?"

The Bullseye is practically weightless.
This neat little gadget takes the guess work out of handheld X-ray positioning. It's an opportunity dentists cannot afford to miss!
Editor's note: Sponsored by Flow Dental.