Today's Dental is committed to providing patients with the best possible care, and making the world a better, healthier place.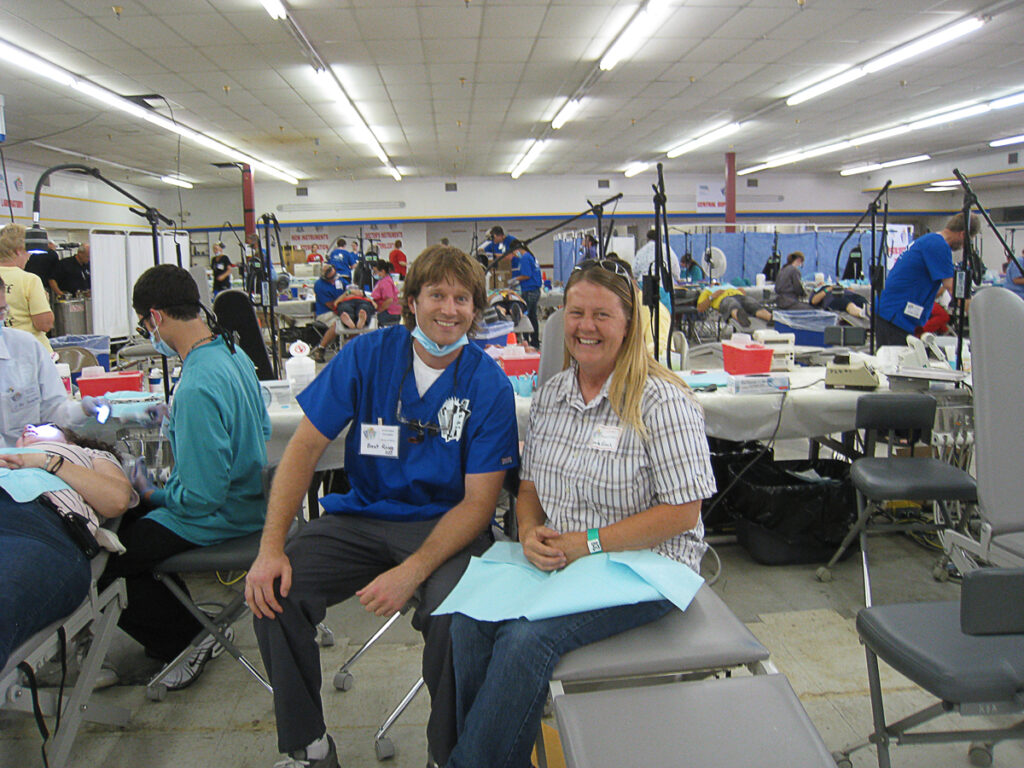 On the first day of Dr. Brent Rising's freshman year of dental school, his professor had the class write down a mission statement for themselves. His assignment was to answer the question "why are you going into dentistry?" His professor collected the responses from the class, holding on to them until his class graduated. On the day they graduated, they would receive these responses to show what might have changed over the years they spent in school. Dr. Rising responded to this assignment saying that he wanted to have a good, successful career in dentistry and that he wanted to use dentistry to give back to the underprivileged and underserved.
Certainly, a lot of these responses would have changed during dental school. Like any other higher educational experience, you emerge a vastly different person than when you started. Not for Dr. Rising. His mission has never wavered. To this day, Dr. Rising leads Today's Dental with that same vision and mission to bring dentistry to the people who need it most. How do they accomplish this mission? By establishing a culture built around helping those in need and setting BHAGs (big hairy audacious goals).
Finding a culture match
Today's Dental is a dental group based out of Nebraska, with locations throughout metropolitan Omaha. In 2010, Dr. Rising joined the team at Today's Dental as an associate. After a couple of years working with the owner, he purchased the practice in 2012. With his purchase, he inherited a reputation of excellent patient care held for 30 years. In 2015, Today's Dental went from a solo practice to a group practice. Since then, Dr. Rising has added six locations through acquisitions, de novos, and even somewhere in between the two. After several years of building out the brand for Today's Dental, Dr. Rising has discovered exactly what he is looking for when it comes to adding locations and new team members.
Company culture is such a huge topic of conversation these days, especially when it comes to how companies can engage their employees through a healthy work culture. Dr. Rising has designed Today's Dental as a place where people can come to experience personal and professional growth, as well as a place where dentists can make a difference in the world around them. "At Today's Dental, we want to see everybody in the company flourish. From dentists to hygienists to the front office, I want everyone to experience growth in their position.
Today's Dental is driven by their core values, devoted to providing their patients with better care and an exceptional dental experience. Rising and his team work with their patients to create a comfortable and stress-free environment. That culture is what defines their productivity and profitability. Rising hires based on whether applicants match the core values and culture of what he is trying to accomplish with Today's Dental.
"Sometimes the best choices we have made are the ones we have said no to," Rising said. As an entrepreneur, Rising has had to learn that it takes more discipline to say no than yes. The secret is knowing how to answer each question. After a new location is added, Dr. Rising and his team sit down to do a "postmortem" to identify the pain points of their process and identify ways to improve it for the future. "We are trying to find the least traumatic way of doing things," he explained. "In an effort to be more proactive for next time, we try to compartmentalize all the processes from marketing, finance, HR, operations, payroll, and insurances to understand what our team struggles with in each venture."
Big hairy audacious goals
In 2018, Dr. Rising and his team worked together to develop their big hairy audacious goals, or BHAGs as they are known around his group practice. He says that these goals are designed as something that the founders and owners could wrap their heads around as well as something tangible that the whole company can be a part of. The current BHAG is known as "28 by 28," or 28,000 free smiles by 2028. Dr. Rising said, "We do a lot of charity dentistry. Each location has a free dental day where we give back to the underserved and underprivileged. We do regional mission trips all the time to perform free dentistry. For us, our BHAGs are just as important as production and new patients."
Today's Dental is so committed to this goal that they use it as a standard of measurement for success each day. Dr. Rising explained their process saying, "We track how many BHAG give backs we do each week. In fact, it's on one of the top lines for the score cards for each week."
This year, Dr. Rising is planning to take his team to the Rosebud Indian Reservation in South Dakota. His team also regularly participates in Nebraska Mission of Mercy, a free dental clinic for the local community. In addition to their regional outreach, they also make efforts to do international outreach. Dr. Rising has taken his team to places like Guatemala and Honduras and is looking to help form a nonprofit clinic in Rwanda.
Dr. Rising is committed to not only providing his patients with the best possible care, but also to making the world a better, healthier place. He wants to improve life for as many people as possible through their teeth. As the Clinical Director of Today's Dental, Dr. Rising steers the culture and ensures that his team is committed to his vision of a better world for people in need. He believes that the "culture of giving back, progressive technology, and a team focused on creating trusting relationships" is what sets his group practice apart from the competition.
"We do regional mission trips all the time to perform free dentistry. For us, our BHAGs are just as important as production and new patients."
While company culture is a hot button issue for everyone right now, what makes Today's Dental unique is their commitment to global outreach for people in need. Dr. Rising's commitment to matching his team and his new locations with the vision of the company will continue to perpetuate their culture of outreach and service. By aligning the company values with his vision of providing dental services for those who need it, he is building a brand that will have a lasting mark on the world of dentistry.