Sponsored: Kerr Endodontics
TF™ Adaptive by Kerr Endodontics removes the uncertainty from root canal treatment, allowing dentists to focus on an ideal patient experience and exceptional results.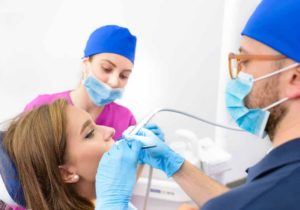 At Chicagoland Smile Group – a growing network of 12 multi-specialty dental practices and 45 dentists and dental specialists – delivering quality clinical patient care and a positive patient experience is a daily priority. To ensure his dental teams meet their high standards of care, founder and president Dr. Roshan Parikh encourages them to use high-quality, reliable tools, such as Kerr Endodontics' TF™ Adaptive system, designed to give clinicians greater predictability, control and efficiency when performing root canal treatment. "Patient care can be challenging, so we don't want lesser-quality materials and instrumentation to prevent us from providing our patients with an optimal experience and results," he says. "For that reason, we rely strictly on materials and instrumentation that are predictable, time and time again."
Gaining experience, building confidence
"We offer endodontic therapy at all of our locations," says Dr. Parikh, adding that both his endodontists and general practitioners perform root canal treatment. Indeed, not all clinicians leave dental school with the confidence to do so, he admits. "In dental school, students typically are considered competent after completing as few as five root canals," he says. In fact, some programs – even those that include postgraduate endodontics – teach students to refer root canal treatment to an endodontist, particularly if it's not a straight-forward procedure, he adds. "And lack of experience results in a lack of confidence."
The easy-to-use TF™ Adaptive system puts clinicians in control, enabling them to focus on a better patient experience and superior results, notes Dr. Parikh. A patient's tooth anatomy may not be predictable, but the TF™ adaptive system is, he points out. "The TF™ Adaptive's reciprocating files can cut through – and reach – the apex with an efficiency that translates into decreased chair time for the patient and increased production time for the dentist or dental specialist," he says. "In an endodontic world of complicated file systems, practitioners must often use 6-10 files to get down to the apex and enlarge canals appropriately. We have heard only positive feedback from our Chicagoland Smile Group dental team about the TF™ Adaptive system's ease of use and zero-file separation, and the resultant decreased patient chair time during endodontic therapy."
---
Chicagoland Smile Group
Dentist and entrepreneur Dr. Roshan Parikh is the founder and president of Chicagoland Smile Group. His vision is to build a best-in-class dental support organization in the Chicago area, offering dentists and dental specialists the opportunity to focus on the clinical aspects of dentistry, providing exceptional care for every patient. Since 2008, the group practice has grown to include a network of 12 multi-specialty dental practices with 45 dentists and dental specialists, all dedicated to advancing dental healthcare in the greater Chicago area.
---
TF™ Adaptive system
With TF™ Adaptive by Kerr Endodontics, dentists and dental specialists can count on predictability, durability and flexibility. The intuitive color-coded system ensures peace-of-mind for new and experienced clinicians alike, enabling them to focus on providing an efficient, successful root canal treatment and an optimal patient experience. Key features include:
Adaptive motion technology. Adaptive Motion incorporates a patented feedback algorithm, designed to change the motion of the file based on the applied load, or stress. When there is minimal stress on the file, the system provides a rotary (clockwise) motion. As the file cuts more dentin, the motion automatically transitions to reciprocation (counterclockwise), preventing the file from grabbing too much of the canal wall. As the stress increases or decreases, the motor responds accordingly, ensuring precision and success.
Flexibility. Designed with R-Phase technology, TF™ Adaptive files are up to 70 percent more flexible than other file brands, enabling clinicians to comfortably navigate curved canals and decreasing the risk of canal transportation.
Durability. TF™ Adaptive files are twisted – not ground – into shape, reducing the risk of microfractures and file separation. The unique design ensures files are up to 58 percent more resistant to fracturing than other leading brands. Removing the uncertainty from root canal treatment permits dentists to work more efficiently and focus on an ideal patient experience and exceptional results, leading to a stronger relationship with the communities they serve.