Service Tech Profile
By Laura Thill
As dental practices – both large and small – face greater demands, service technician Greg Rehms works harder than ever to exceed expectations.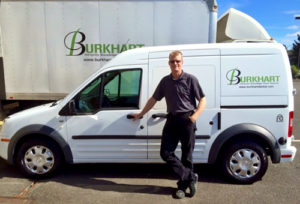 A lot has changed in the 28 years since Greg Rehms joined Burkhart Dental as a field service technician. But the importance of the tech-customer relationship has remained the same – and likely always will, he notes. "Just about anyone can fix equipment, but it takes a certain personality type to know how to foster relationships," he says. "Service techs must be able to do both, and do them well.
"My customers have always relied on my knowledge and my ability to ensure their equipment functions efficiently," Rehms explains, making it as important as ever for techs to build strong, trusting relationships with their customers. "At Burkhart, we are very relationship-oriented. Over the years, I've built greater customer trust with each service call and equipment installation, and I've grown closer than ever to the dentists and their staff."
The evolving practice
Today, dental practices are under greater pressure to ensure their practice is profitable, Rehms notes. They must work more closely with insurance companies and adapt to constantly changing technology, including digital radiography, intra-oral scanners and milling machines, as well as learn to log and track equipment problems in their computer system. "Overall, dental practices have adapted to new technology very well," he says. "But, the ones who fare best are those devoted to training their staff. And, it's important that they devote sufficient time to training. It's not just a matter of exposing the dental staff to new equipment, but ensuring they are truly comfortable with the new technology. The difference can mean a much happier practice!
"As dentists get increasingly busier, it's becoming harder to schedule face time with my customers," Rehms continues. "As a result, it has become increasingly important for me to stay on top of services calls, parts ordering and van inventory, office checks for new equipment, technology and training. Service techs who aren't organized and detail-oriented will struggle, and it's bound to have an impact on their customers."
As the demands on dentists have changed, so too has the relationship between service techs and their field sales rep counterparts, notes Rehms. "Today, the service tech-sales rep relationship requires joint strategic planning around our customers' needs," he says. "Our account managers work long hours, and I must be respectful of their time. This calls for optimal time management skills on my part." Communication between service techs and sales reps – and lots of it – is key to meeting their customers' needs, he adds. "It's important that we are always on the same page, especially with regard to recommending new equipment. We want to ensure our customers get the best solution possible and don't want to confuse them by offering more than one opinion."
DSOs – a growing trend
In the face of these challenges, Rehms has seen many dentists – particularly newer ones who carry debt from dental school – join dental service organizations (DSOs). Regardless of the size of the dental practice, he makes it a point to never lose sight of his customers' needs and expectations, and then exceed their expectations. "In order to give my dentists the very best service they deserve, I need to take time to communicate with them," he explains. That said, working with a multi-site dental practice comes with a unique set of challenges. "One of my newer customers is a DSO with eight locations," he says. "The challenge for me has been to get to know all of the dentists and staff across all of the offices, and build that trust." Indeed, he looks forward to the relationship growing based on honesty and clear communication.
"I helped facilitate a meeting between the two owners of this DSO and Burkhart's president, Lori Burkhart," Rehms says, noting that the emergence of DSOs continues to be an important industry trend. "I'm very excited about this. It's critical for Burkhart to be in close touch with our customers and make them feel that much more appreciated. The bottom line is, no matter who our customer is, we're all in this together."